Headless CMS SEO automated
Optimizing for SEO just got easier with the headless CMS built with automated SEO capabilities - a dream for developers and marketers alike.
About Headless SEO
Many companies are finding that their monolithic content management systems can't keep up with modern web development and SEO needs. Meanwhile, many headless CMS's make optimizing for SEO a pain.
Zesty breaks the cycle of SEO headaches with a system built for scale, automation and optimization. Our tool gives you the ability to create and update URL paths, automate metadata and get insight into keywords, all within the platform.
How headless CMS can help SEO
Forefront of new technology
A headless CMS allows you to design websites and digital experiences that are optimized for search. IoT and cross-platform experiences such as voice search and AI can easily be managed and optimized for SEO within a headless CMS.
Better customer experiences
SEO and customer experience go hand in hand. If you can create compelling customer experiences, chances are your pages will outrank competitors that are still using outdated content management systems. Headless CMS makes it easier to create seamless experiences across devices.
Easier content management
One of the key benefits of a headless CMS is the flexibility when it comes to authoring and publishing content. As a result, you and your team can easily ensure all your content in your CMS is SEO friendly.
Dominating SEO with Zesty's headless CMS
Our headless CMS comes with SEO natively built-in, meaning all you have to do is set your parameters and let Zesty do the work.
Technical SEO 
Technical SEO is a complicated yet vital component of search engine marketing strategy. It includes page crawlability, page speed and security. Zesty ensures your technical SEO is top-notch with easy-to-crawl pages, optimized code for top page speed, and enterprise-grade security compliance.
Automatically optimized images and visual content
Visual content is an important part of your search engine strategy. Large images or files can slow down a webpage, affecting bounce rates and subsequently your page rank. Zesty automatically optimizes your visual content for fast page load time, meaning you don't have to worry about resizing or compressing your images.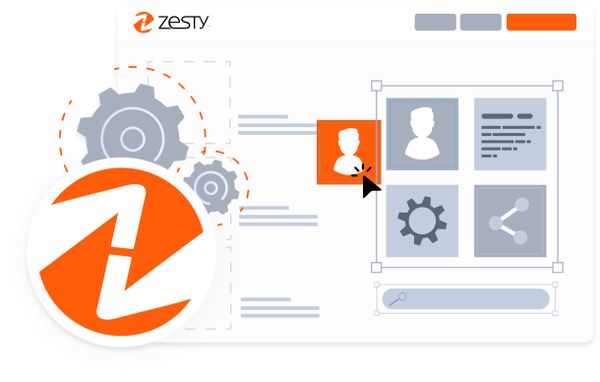 Metadata at your fingertips
Metadata is a crucial factor of SEO because it helps Google understand what's on a certain page. This includes descriptions and titles of pages, images and other files. Many headless CMS's don't allow for easy editing of metadata, but Zesty provides simple metadata editing and keyword insights on every page of your site.
Simple URL creation and redirects
Optimized URLs and creating 301 redirects is vital to good site health. Unlike most headless CMS's, Zesty provides simple URL path creation and redirect control within the platform so you can maximize your search engine results.
Implementing SEO with Zesty is incredibly simple
No plugins, extensions or integrations necessary. Simply navigate to the page you'd like to edit, select "SEO & metadata" and edit your parameters. Plus, most steps are automated, meaning you don't have to worry about extensive setup or ongoing maintenance.
Want to integrate with your favorite SEO tool? Zesty can do that too. We offer a wide range of API's to help you leverage your favorite tools.
Start boosting your SEO efforts with Zesty today
With Zesty's headless CMS, get all the SEO features you love without the headache. See how our automation works in a quick 15-minute demo.
---