SAN DIEGO and CLEVELAND — September 6, 2016 — Fast-forwarding next-generation, cloud-based web content management, Zesty.io today announced that early adopter Sony Electronics has already witnessed the advantages of its SaaS 3.0 content management platform in the launch of a consumer website for its new line of Sony Alpha cameras.
Click to tweet this news.
"Sony Electronics' success delivers important validation of the inherent promise of SaaS 3.0 technology — at both the mid-market and enterprise levels," shared Randy Apuzzo, founder and CEO of Zesty.io. "As organizations yearn to speed, scale and secure the global distribution of digital content, SaaS is the only way to go."
For mid-market and enterprise firms, the challenge of building and deploying brand, marketing, and commerce websites using legacy content management systems has been stifling in usability, speed, agility, social engagement, omnichannel support, and security. Much of the move to the cloud is done through "cloud washing" or inefficient programming outside the cloud.
A cloud-based, SaaS 3.0 platform leapfrogs over these obstacles to enable marketing with the speed and agility needed to go to market quickly, while giving IT the controls, compliance and security needed to protect the business as well as delivering significant cost and resource advantages to the organization as a whole. The advantages of SaaS 3.0 technology are further explained here: https://www.zesty.io/saas-platform/what-is-saas/.
The Sony Electronics marketing team, via a strategic partner, came to Zesty.io in need of a secure platform to quickly build and launch a community website for the Sony Alpha camera brand. The team toyed with using the familiar WordPress, but it would not have met the heightened enterprise security standards required at Sony. In seeking a lean and agile platform for marketers, yet meet IT automation and security standards, Sony turned to Zesty.io. Highlights of the engagement include:
Faster to Market: Sony's Alpha Universe camera website was created and launched in half the time — two months versus four months — using the Zesty.io Platform in comparison to prior launches of websites at Sony.
"We originally allocated four months to deploy Sony's Alpha Universe website, designed to drive engagement with both existing and prospective customers of our Alpha camera lineup," explained Matt Parnell, marketing communications manager at Sony Electronics. "By using Zesty.io, we were able to soft launch in six weeks and fully launch within two months."
400,000+ Customer Visits: Customer visits to Sony's Alpha Universe website doubled, quarter over quarter, after the new website was launched using the Zesty.io Platform.
"With an extremely efficient UI and a host of innovative features like the Zesty.io social curator tool, the Zesty.io Platform has become the backbone of our customer engagement success, as the site has received nearly half a million customer visits per month," added Parnell.
Enterprise-grade Security First: Zesty.io worked with Sony to meet all security requirements, using Zesty.io two-factor authentication to stop social engineering attacks and entry via email theft.
"The Zesty.io Platform has quickly developed into a global benchmark for Sony's content marketing program," confirmed Parnell. "We are now working with Zesty.io to deploy this strategy in other key regions throughout the world."
Zesty.io will be exhibiting in booth 79 at Content Marketing World 2016, being held September 6-9 in Cleveland, Ohio.
Zesty.io Platform
The Zesty.ioPlatform is SaaS 3.0, which means it is 100 percent native in the browser, faster, more cost efficient and less labor intensive. The results are faster time to market and less adoption risk for companies.
The Zesty.io Platform is available today. For mid-market and enterprise organizations, transparent SaaS pricing is key to helping organizations budget and grow efficiently.
For more information about Zesty.io,please visit https://www.zesty.io, and follow Zesty.io on Facebook/Zestyio, LinkedIn/Zesty-io and @Zestyio.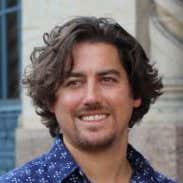 By Randy Apuzzo
Randy has had a penchant for computer programming from an early age and started applying his skills to build business software in 2004. Randy's stack of skills range from programming, system architecture, business know-how, to typographic design; which lends to a truly customer-centric and business effective software design. He leads the Zesty.io team as CEO.
---