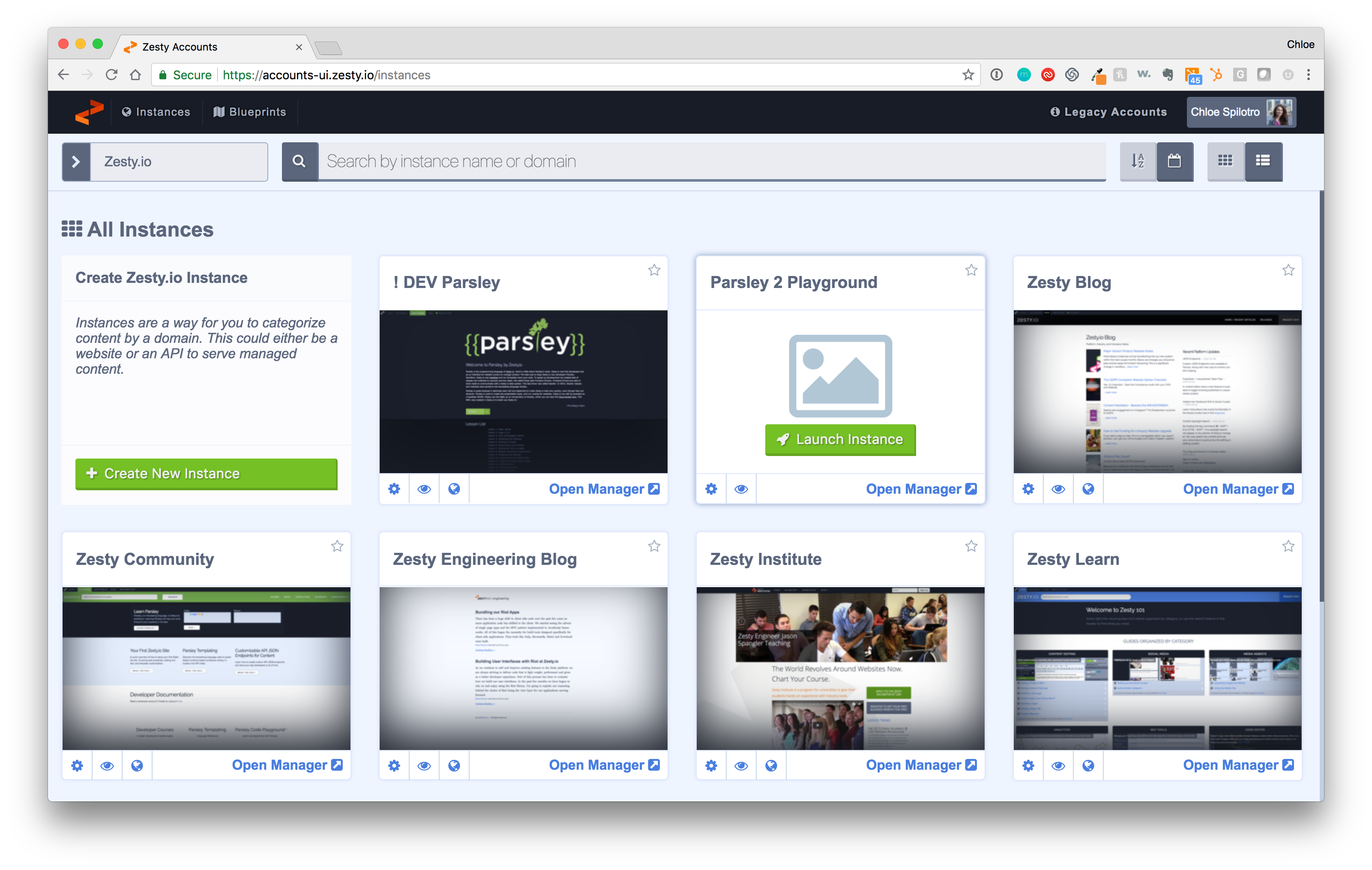 We are proud to announce a facelift for the Zesty.io Accounts App. Some of you may have already seen the new look, as we have had it available in a preview for the last week or so. Our goal is to make your interactions as smooth as possible, while giving you the ability to manage your instances to the deepest levels.
You'll immediately notice a different interface with each instance appearing in a card. If you have live instances you'll see that there are screenshots of each homepage, these will be updated periodically. You may also notice the ability to sort your instances by creation date or alphabetically. In combination with our new 'Favorites' system all of these options should help you to get in, get everything sorted to your liking, and be on your way.
Not a fan of seeing your instances in cards? No problem! you can easily change over to a list view resembling the old zesty. This is just one of many user customizations our new UI allows us to bring you. We will also allow users to decide whether or not they want to see 'Developer Features'. Which includes managing custom blueprints and more to come in future releases. This can be toggled in the preferences section of your account settings.
At your fingertips in either the list or grid view is the ability to quickly go to the manager app, preview url, live site or see the instance overview using the quick icon links. If you click into the overview (the ⚙ icon, or instance name in list view) you now have easy access to manage all aspects of your instance. Invite users, manage existing users, see your instance's metadata, change the blueprint, add a domain and launch an instance!
Feature Highlights
Easier User Invitations
Building your team in Zesty.io is now easier and faster. When you invite new team members to an instance, you can now select their role when you invite them!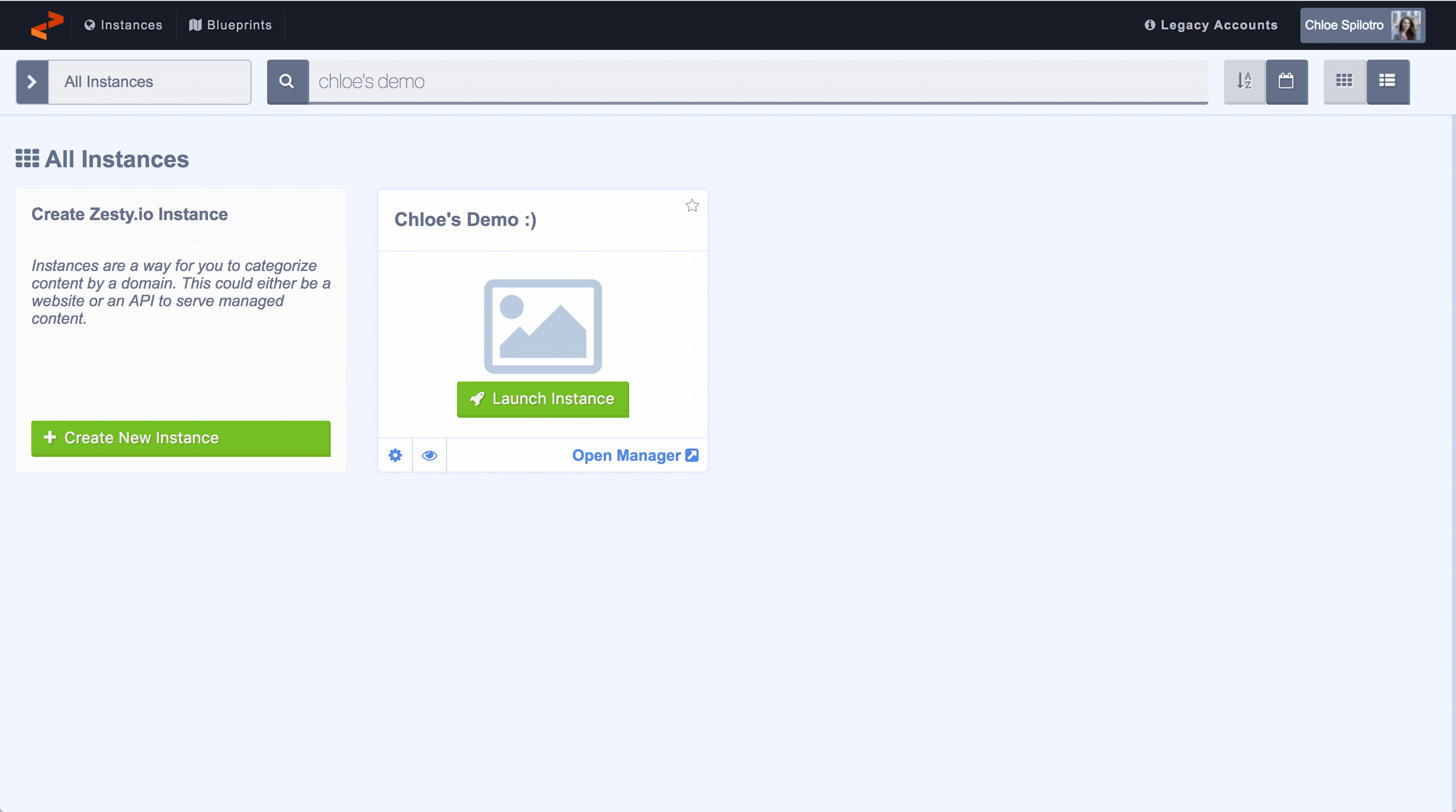 Documentation Updated
If this is your first time building a site on Zesty.io check out the new documentation on how to create your first instance.
Redesigned System Emails
You'll also notice we've changed the design of emails sent through the system. Now they will look like this: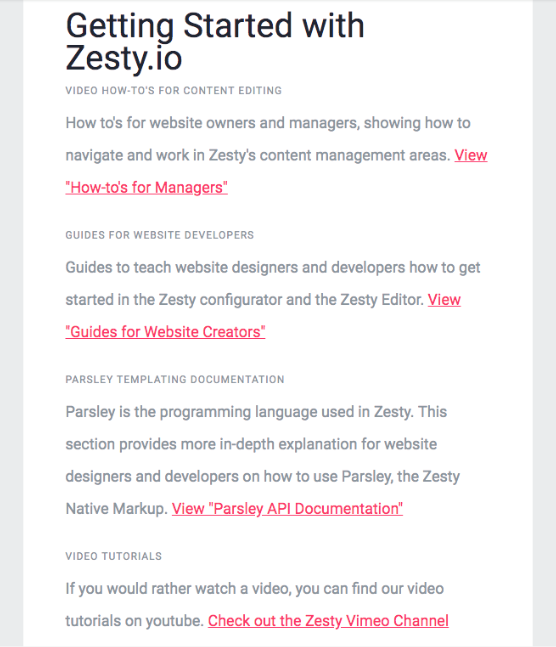 Favorites
For those who manage multiple sites, now you can favorite sites that you're managing often! Simply click the star on the instance you want to add to your favorites.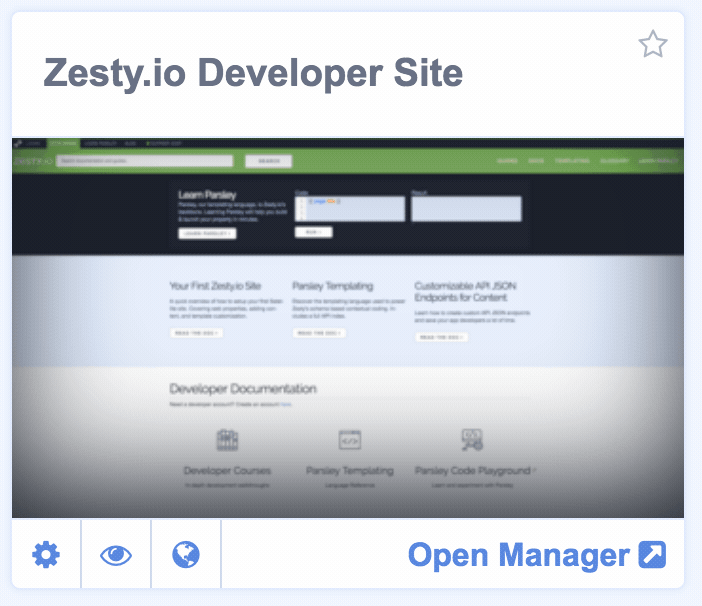 New Views
The new Grid view is designed to provide a quick at a glance view of your sites. In the Grid view, you can see a preview of each live instance. Those are screenshots of your live domains! If you manage multiple instances, we've also provided a List view. The List view allows quick discovery of instances you need to work with.
Easier Multisite Control
It's important to know that the new Accounts UI is the new EcoSystem view as well. Here under the list view, you can check out loads of instances, all controlled via user settings.
All Sorted Out
All sorts of sorts! Now you can sort your instances alphabetically or by creation date, whichever you prefer.
Developer Blueprints
Blueprints are what developers use on Zesty.io to provide a base set of code and schemas for instances when they are created. Now when you log into the new Accounts UI for the first time or when signing up you can opt into these features. Once you've picked a setting you can always change it later within your account settings. So if you are curious about accounts developer features, opt-in and check them out!
Feedback + Support
We always love to hear your feedback! If you have any suggestions or just want to give some praise, we always appreciate knowing we're solving our customers needs, visit our support page to learn about the various ways you can get a hold of us or learn more about the platform.
How do I access my Zesty.io account?
Logging into the Accounts App is the same, so you can keep accounts.zesty.io bookmarked for quick access.
How to Update to the New Accounts UI
You don't have to! As always, you get the benefits of new features and updates automatically. All you have to do is log in and you'll see all the new goodness.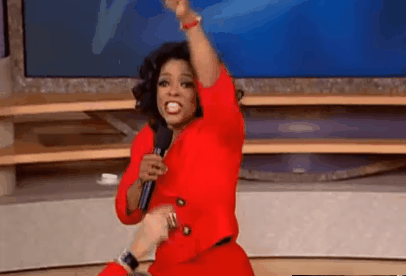 You get an update, and you get an update, we all get an update! Because we believe the best software should be delivered to you automatically. 
You can switch back to the old view for the next two weeks, but the legacy accounts UI will be retired July 16th and become inaccessible.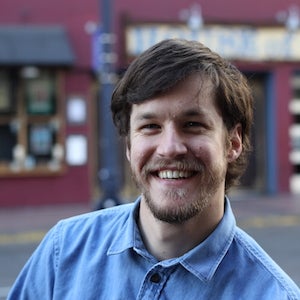 By Stuart Runyan
Developing web technologies is my passion! I'm focused on creating applications and experiences to solve the problems which today's digital marketers face. I believe in web standards, a mobile first approach, access for everyone, open source software and the democratization of information. My goal is to continue the Internet being pure awesome!
Related Articles
---