Your website is your brand's digital presence. It's one of your biggest vehicles to reaching your customers and converting sales. And people judge in seconds within landing on your site. 
It can stink to admit it, but if it's been a while since you've upgraded your site, you need to pay attention to that sooner rather than later. Sites that are stale do not convert potential customers.
Think of it this way: I always say, in literally almost any scenario, "if you have to ask, you already know the answer." This applies to almost any question. 
"Should I have salad or a burger for lunch?"
"Should I call my parents today?"
Even that dreaded question... "Could our website use an upgrade?"
If you have to ask, you already know the answer. :)
So, let's say you're in this boat: the timing's right, you might have an idea of what you'd like to change or new designs you want to implement, maybe you're tired of all of the updates and security patches your current platform requires, and maybe you want to explore new integration options to make sharing data among departments easier.
STEP ONE: Get in Line
Not "get in line" like wait around to present your idea. What I mean is, get your project in line with the big picture.
Start with the highest level aspect of this idea to get leadership on board: the company's vision/overarching goals. (Psst… Not sure what those are? Spearhead that movement! Your company should always have a clear vision of what it's goals are so that when they're achieved, you're on a clear path to success.) So, what are the company's goals? List those. Then…
Your first job is to answer one question: how does a website support your company's goals?
And, most importantly, what are some goals you can extrapolate to the marketing department specifically? How can you make the website responsible for achieving certain goals?
STEP TWO: Measure Up
Okay, great- your goals are defined. Now you need to outline the metrics of success.
So, evaluate your analytics tools and start digging. Build your case that your website is the most important vehicle for communication to your target audience. Be sure to include key growth metrics like
"Over the last 3 years, we've consistently generated about 20% more traffic each year, making us more visible to the right people so we can support our goal of selling more widgets" or "Since our last update to the site the number of people who access the home page and then leave has decreased by 15%, meaning our site is more engaging and our target market has responded to changes in the past."
Try to speak in plain english without the analytics jargon, so everyone in the room is on the same page of why these metrics matter.
STEP THREE: Complain
Now it's time to complain. How are you missing your goals with your current site? It's best to be super specific:
"So here's the sitch. Our target market is Millennials, and 82% of millennials view sites on their phones. 75% of our traffic is Millennials viewing our site on their phones, so we're doing a good job of bringing people to the site. Buuuuuuut our site isn't mobile responsive, so to a potential client, it looks like this. (Show site on mobile and how silly it looks.) I project we could convert as much as 30%  more of that traffic simply by making this site mobile responsive."
Clearly demonstrate the value of an upgrade, and back it up with numbers whenever possible.
STEP FOUR: Check Out Your Competition
Show that your finger is on the pulse of what others are doing. Does someone have a killer pricing page? Does a competitor have a chat widget to provide phenomenal customer support directly on the site? It's ok to show what others are doing and let it provide inspiration for your redesign. It's better to add on new designs or features when it makes sense as opposed to looking like you've fallen behind others in the industry.
STEP FIVE: Explain and Follow Best Practice
This is your time to shine as the visionary in the room. Educate your leadership about the importance of the website. Connect the dots to help them understand the reach of your website and its value for achieving your goals and affecting the bottom line. Some examples of things you may want to point out are:
Mobile: This is simply expected by most users, and Google actually punishes sites that are not responsive because they provide poor UI. If your site's not mobile, this isn't a trend to follow: it's a wake up call.
App Connectivity: Do you have a mobile app that you manage too? Check out platforms that allow you to manage all of your content in one place and syndicate content to other places (hint: it's called a headless or a decoupled CMS). That way all your marketing assets (IoT devices, apps, digital signage, whatever you can dream of) are up to date, all the time.
Multi Site Management: Have lots of marketing sites, microsites, or landing pages to manage? Better yet, are they in lots of languages? Having a strategy readily available to share content or assets among those sites (making management cheaper and easier) will be a huge win for you.
STEP SIX: The Plan
Admittedly, this is the biggest step.
A high level plan that you've worked with other departments to create goes a very long way when presenting your case. Work with others in IT, sales, and other departments to get their input in on what would make a successful redesign. Does the sales team want slack notifications when leads come in? Does IT want minimal involvement in the site? It's important to know what others want and expect when evaluating this project.
If you present an idea that others have already agreed upon, leadership will be far more willing to give you the budget you'll need and support your initiative.
Additional tips:
Make sure the plan is feasible. Have an idea of who'd own the project, what others roles would be, and timeline. Does your in-house designer have time to dedicate to generating new design files? Do you need to hire offshore development to get this done? Is this something you need 6 months or 6 weeks to do? These are all important questions you'll want to preemptively answer, too.
Plan for longevity. Have you found a platform that's future-proof? Is this a design that will be dated in a year, or will it last a few years? Is it easy to add/delete blog posts, client testimonials, or new tools as your site evolves? Selecting both technology and a design that will last for years to come is another thing that will help make it easier for someone to grant budget for this project.
STEP SEVEN: Ask for Money
Ok, I lied on the last one. This is actually the biggest step.
With your plan in hand, do some preemptive research on platforms that will support your redesign. Will your current platform support all of your goals and make all of your internal teams happy? Shop around and contact possible agency partners (if needed) and CMS vendors to get an idea of the funds needed for your project. If you can bring a range of costs that you project you'll need, it's far easier for a CMO or CEO to grant that budget.
PRO TIP! Steal some budget!
Okay, don't actually steal. But what you can do is dig and see if other teams have unused funds that could be applied to ward this project. See if you can maybe get an advance commitment of funds from IT, Communications, or Sales. If you've already found some money and you're asking for just a liiiiittle bit more, it's much easier to grant that dinero.
STEP EIGHT: Actually Ask For It
This isn't something that can be sent in an email and kapoof! your wish is granted.
First, get in front of those who can support your request. (You've already done that by getting internal support!) Another important thing that can help is if your direct boss will support your initiative. Having their buy in and help bringing it to the decision maker can go a long way.
Do it in person. This is a proposal, so making sure to do it in person will validate how serious you are and will also give you unspoken feedback on parts that maybe you need to beef up. For instance, if an eyebrow was raised on your list of grievances signaling they're not important, it cues you to flesh out that case a little more before moving onto the next point.
Sell it. Practice your presentation and make it high impact. You're selling an idea to someone and asking for a lot of money- it's not a light initiative. It's reinventing the digital face of your company. It's important- nay, paramount to your marketing initiatives. You've taken on the initiative, and you've done all the research to become the in-house expert.
Now, sell and execute!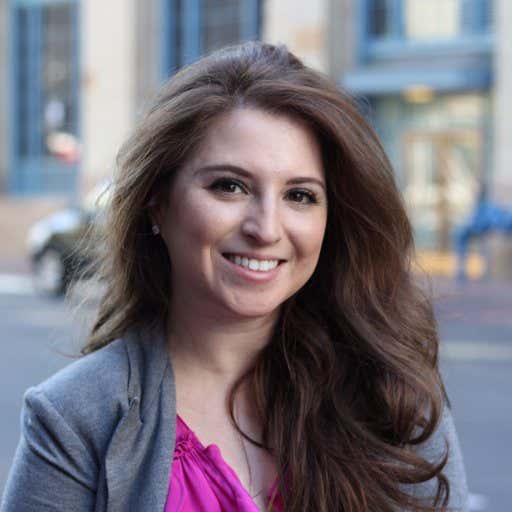 By Chloe Spilotro
Hooked onto the platform since first using it through the Zesty.io Incubator Program at the University of San Diego. Passionate about all things marketing, IoT, and helping businesses leverage technology to grow and become major players in their industries.
---