Newsroom
Zesty.io Releases New Duo Mode Feature for Content Authors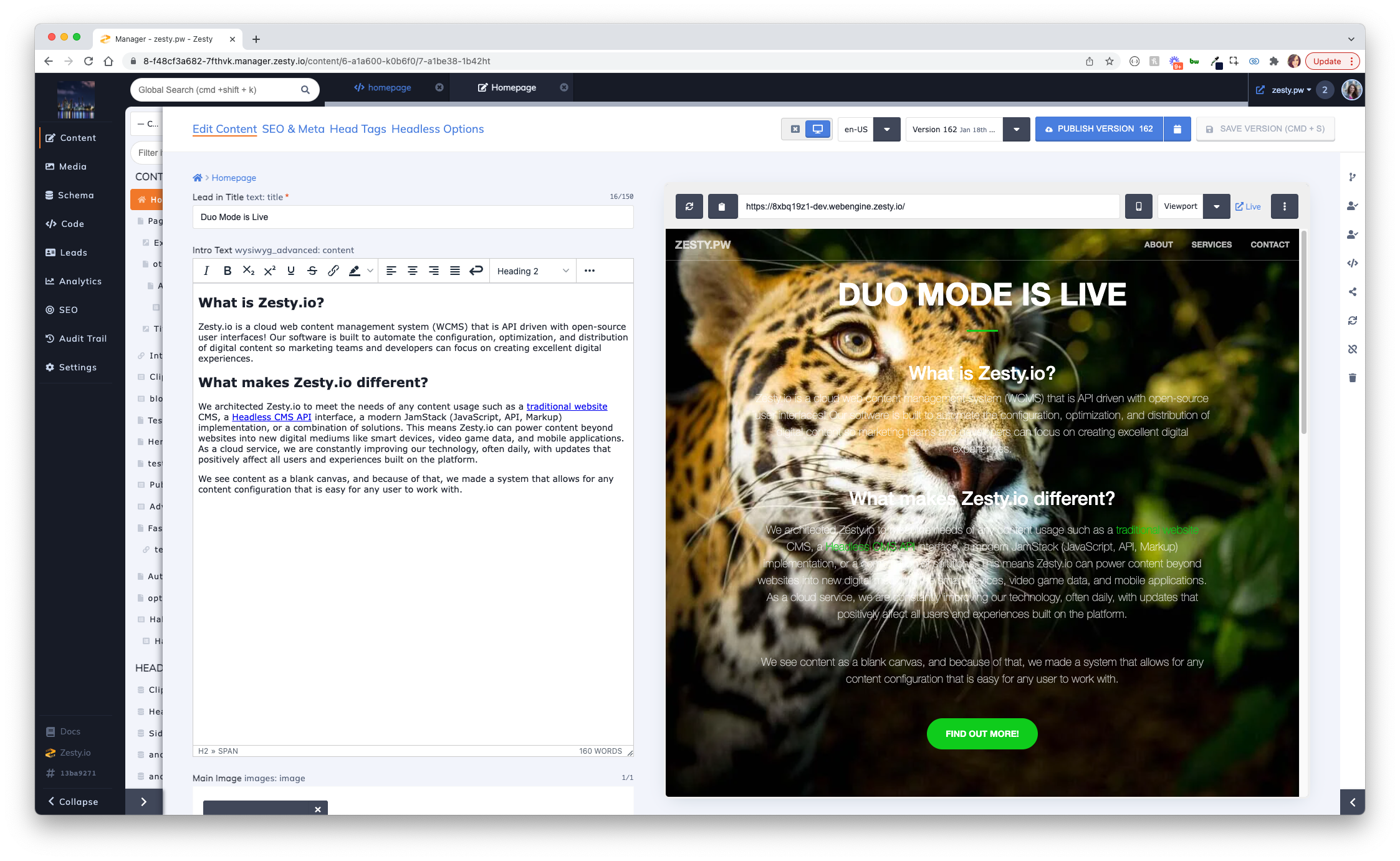 We've got a lot of great new features and releases coming in 2022, and what better way to kick off the new year than releasing Duo Mode! Built for content authors, Duo Mode is a way to preview your edits directly in the app, on any screen size.
Based directly from your feedback, we designed and built a new way to preview content before sending it live: Duo Mode. This allows you to preview all the changes you are making to a page directly in Zesty.io without navigating to a URL or another tab.
This new feature comes with a few key aspects we want to highlight:
Feature Highlights
In-App Preview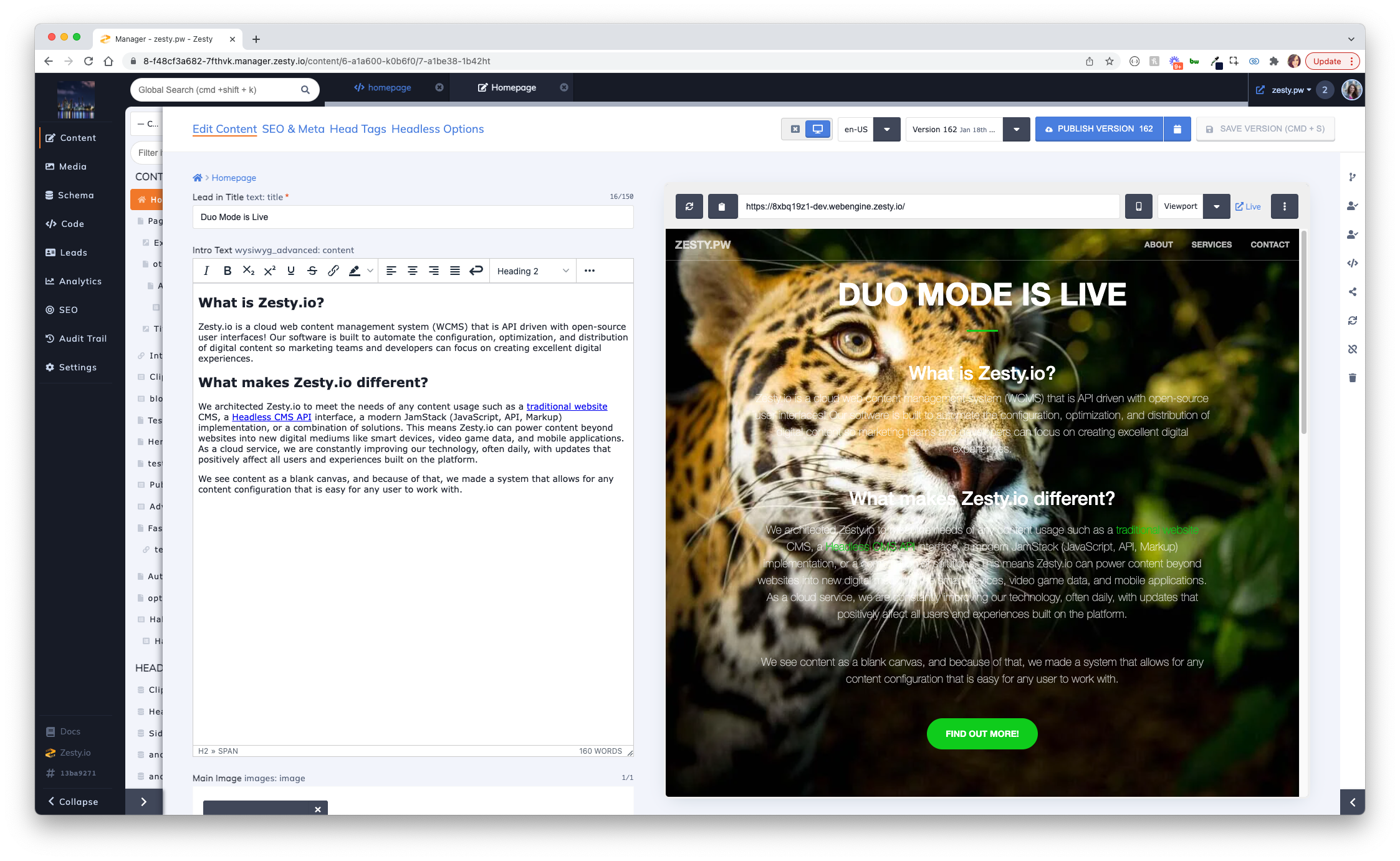 Duo Mode is designed to give you a preview of the content edits you're making without leaving the app. Instead of previewing content using your stage link, now Duo Mode shows you the preview directly in the Content Manager. Every time you save a new version of the content you're editing, Duo Mode automatically refreshes to reflect those changes. It's a much improved workflow that content authors have been asking for, and we're excited to deliver!
Multiple Viewports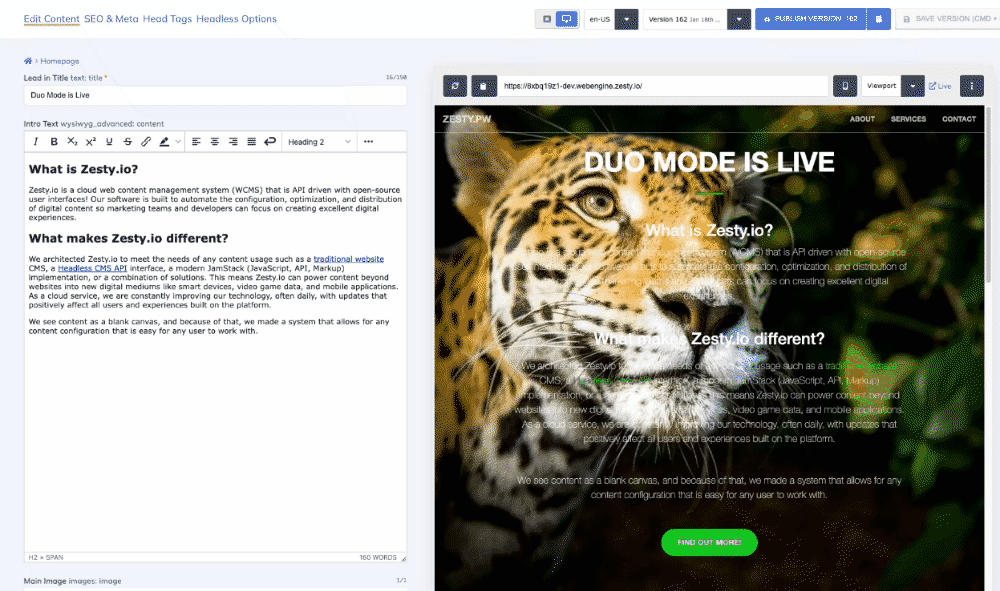 Toggle your viewports easily in Duo Mode. Preview what your content will look like on desktop, mobile, tablet, and other sizes before publishing to the live site. You can even toggle between portrait and landscape on devices to make sure you preview everything!
API Metadata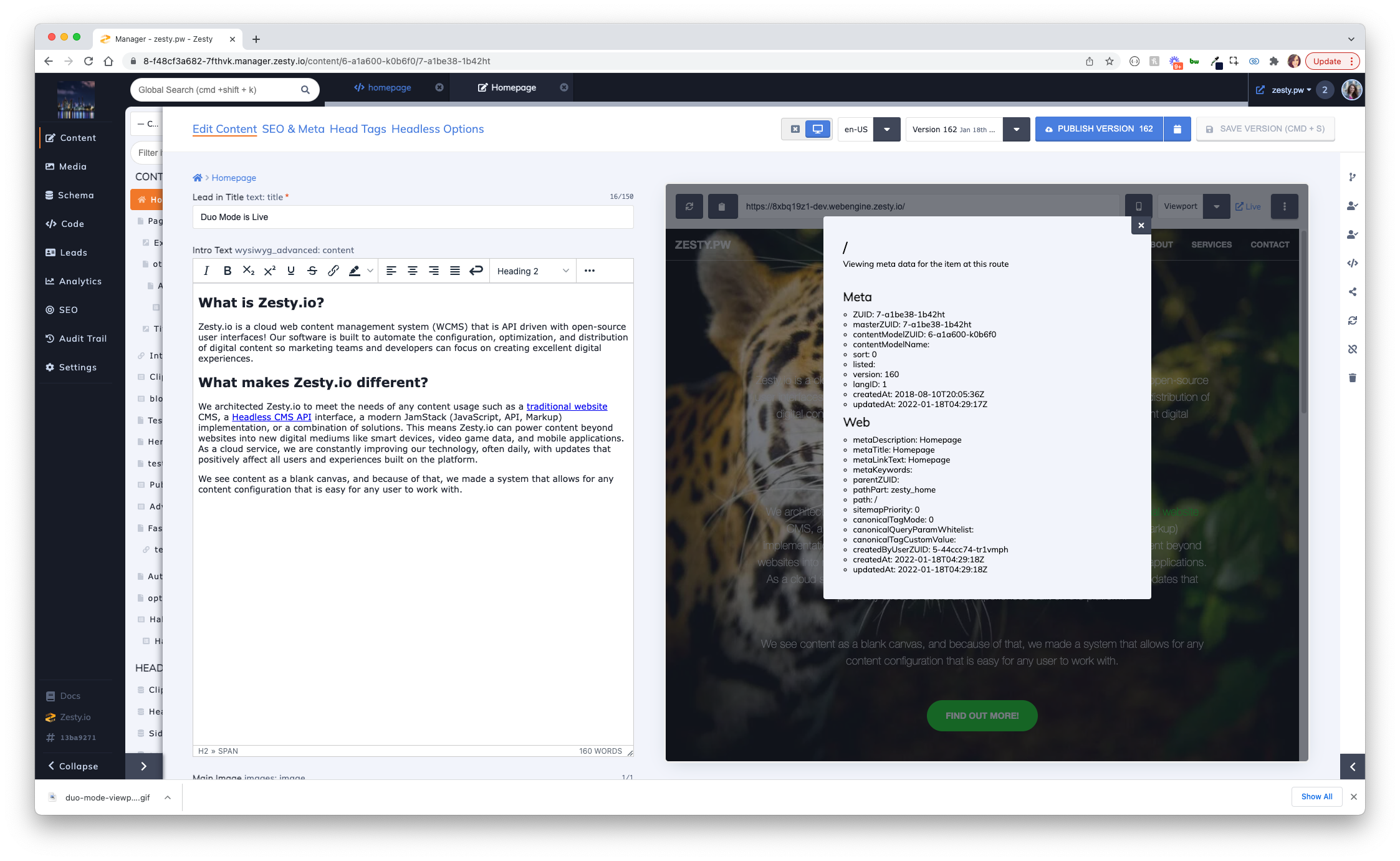 Content items when created are given additional metadata which can be helpful in understanding its relationship to other items, whether it is available to Parsley loops, what content is used for SEO head tags, etc. This API metadata can be seen by click the options button in the preview.
How to Use Duo Mode
Like all features in Zesty.io, any user has access to Duo Mode as it's been deployed to you directly. So, all you have to do is log in and find it in the content manager.
Step 1: Navigate to the Content Manager
Find the page you're looking to edit in the Content Manager. 
Step 2: Turn On Duo Mode 
Toggle Duo Mode "on," and you will view the editor on the left and duo mode iframe on the right. The Details Panel will automatically collapse for more view port real estate. You additionally have the option to collapse the Global Navigation and Content Nav Tree when working in Duo Mode, which is great for users working on smaller screens.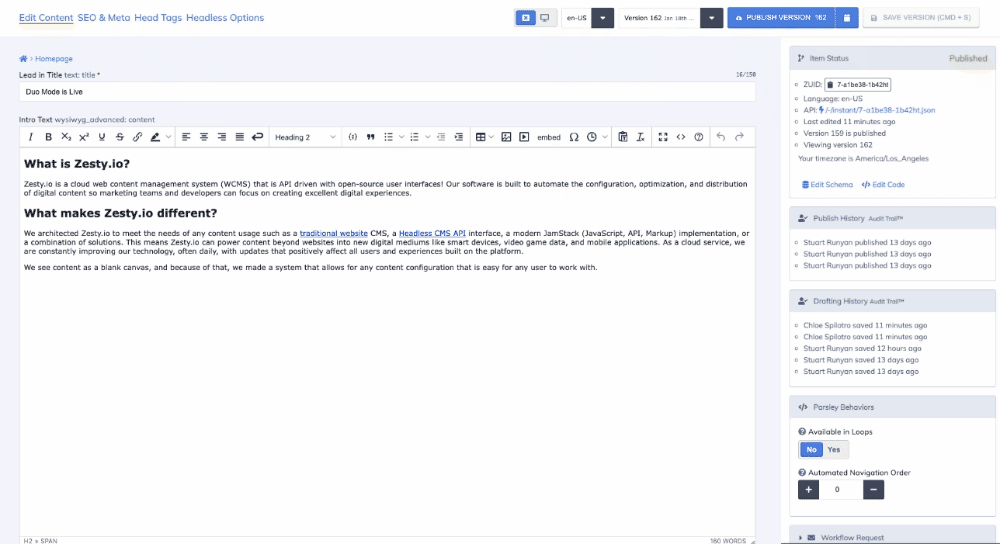 Step 3: Save Your Content
Make any change you like and save your content either by clicking the green save button or by using the keyboard shortcut CMD + S on OSX and CTRL + S on Windows. Once your new content is saved, Duo Mode will automatically refresh and display the new version of your content. When you're ready to publish, all you have to do is press the publish button as you normally would.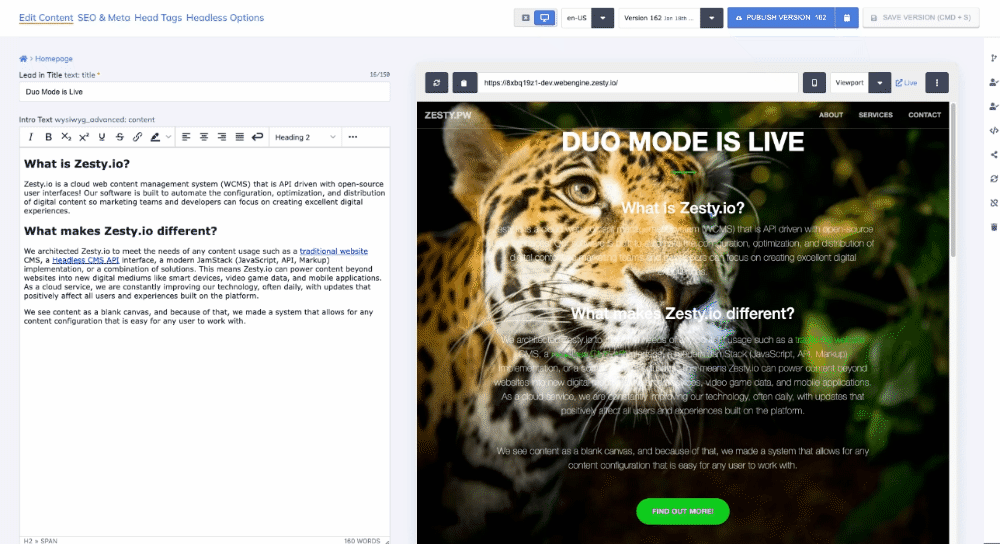 But wait, there's more…
When the Content Nav Tree and Details Panel are collapsed, you can hover over the panels with your mouse for quick access and faster navigation throughout the Content App.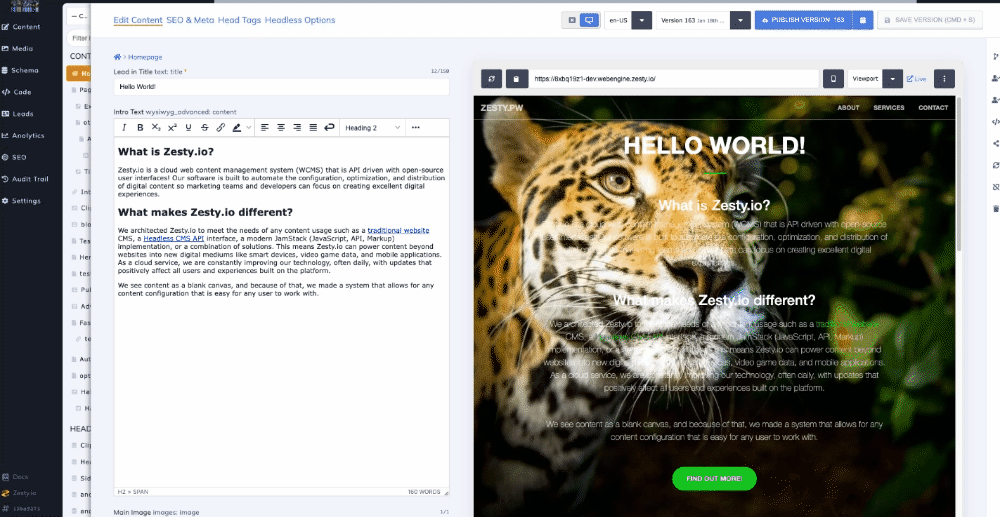 Questions, comments, suggestions?
We're all ears. Please reach out to us directly at support@zesty.io to share any bugs you find, or to provide feedback on this new feature.
Loving Duo Mode?
We're glad to hear that! Please consider taking a moment to share your thoughts on G2. Reviews take a few moments and help others make informed decisions on what CMS to use.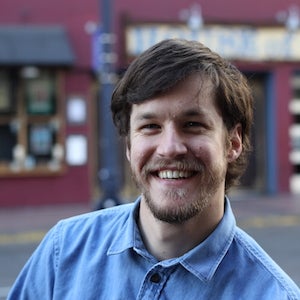 By Stuart Runyan
Developing web technologies is my passion! I'm focused on creating applications and experiences to solve the problems which today's digital marketers face. I believe in web standards, a mobile first approach, access for everyone, open source software and the democratization of information. My goal is to continue the Internet being pure awesome!
Related Articles
---