This year has been full of platform enhancements and updates, along with the launch of several new features, and that momentum is not slowing down in August. Thanks to our growing Product and Cloud Ops teams, we incorporated more feature requests into our current product roadmap based on extensive user research.
Check out the list below for more details on all the updates from this month.
Searching for the status of a bug, enhancement, or feature request? All of these are available via our publicly accessible Manager UI and Accounts UI repositories.
August Summary
4 New Features

3 Improvements

7 Fixes

1 Performance Enhancement
New Features
Marketplace
On August 1, 2022, Zesty.io launched the Marketplace. You can now seamlessly integrate your favorite tools, applications, and extensions with one click to any Zesty instance. Currently, Marketplace features Zesty Layouts, Zesty Live Editor, and Google Analytics with many more to come. Learn more in the official Marketplace Announcement.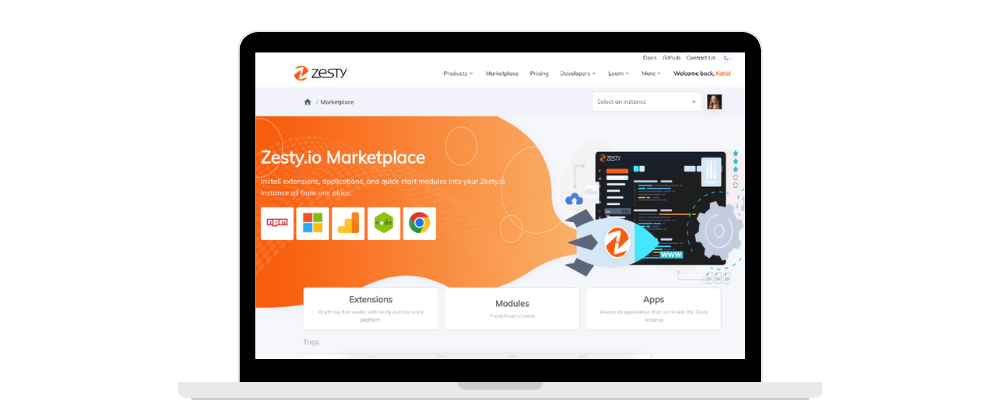 Activity Log
Another major new feature that shipped this month is Activity Log (previously Audit Trail). Prior to the update, users were able to see changes made in the Audit Trail tab of the Content Manager, but insights were limited.
Now users are able to sort by actions, resources, and editors to monitor their instance, plus download an audit report. Activity Log also offers a cleaner, more user-friendly interface. See all the capabilities in the official Activity Log Announcement.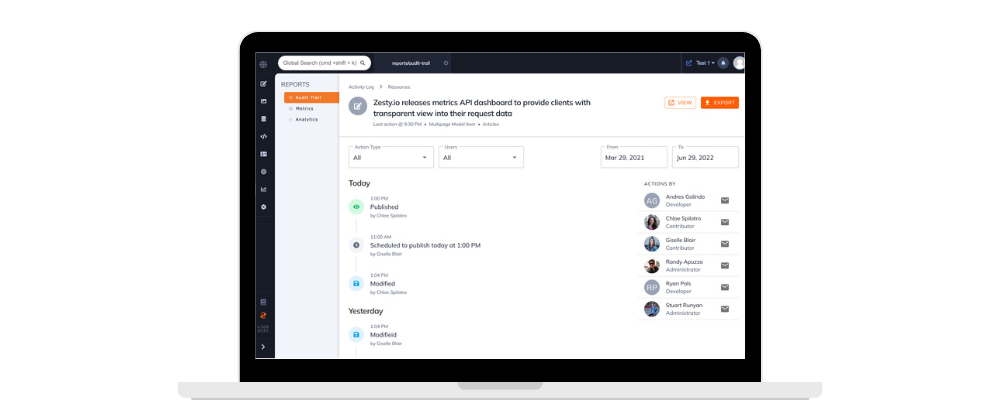 Publish History Table
Keeping track of publishing events was a pain point users expressed and we listened. Content items publishing history is now easily viewable inside the Content Manager next to the "Headless Options" tab.
Publish History allows editors to track the life of the content item, see which version is live, and take actions like publishing, scheduling, unpublishing, and canceling events.

Tabs
Phew this is another hot ticket item, so much so that it sparked our most engaged discussion to date (and for positive feedback). So we took action and built a better experience that would not leave users feeling like they were drowning in a sea of open tabs.
The new Tabs functionality allows users to pin relevant tabs they want to keep in view and hides overflow in a dropdown that is still easily accessible. Though not in production quite yet, Tabs is in Beta and coming soon. Best of all, it will greatly improve your workflow with its clean design and functionality. Sneak preview below ↓

Improvements
Updated Cypress and large overhaul to testing #1210

Added Sentry webpack plugin to push source maps #1216

Added the ability to use TypeScript and convert a single file #1241
Fixes
Performance
Refactor SEO redirects table to be implemented with MUI data grid #1174