Headless
Comparing Headless CMS Contentful with Zesty.io
As the headless CMS market continues to expand, we take a look at two leading competitors, Contentful, a popular choice for developer-centric teams, and Zesty.io, a SaaS platform built for both developers and non-technical marketers.
We're comparing features, customer support options, and everything in between.
Looking for A Contentful Alternative?
Over the years, we have seen Contentful go on to become a household name in the headless content management space. Indeed, as more headless CMS providers enter the market, the Berlin-based headless CMS provider consistently remains to be a firm favorite.
However, many users have commented on how the platform is too focused on delivering a good experience for developers, and less about editors and marketers. Some users have even commented on how slow the interface is - which is not good if you want to achieve a faster time-to-market.
Fortunately, there are many alternatives to Contentful, with Zesty.io being one of them. But before we dive into this comparison, let's understand some of the basics.
What is a Headless CMS?
A "Headless" CMS refers to the lack of front-end presentation layer found in the CMS platform. Traditional CMS platforms such as Drupal, WordPress, and Joomla come with a front-end presentation layer out-of-the-box.
This front-end layer usually consists of a user-friendly interface, a presentation layer and a WYSIWYG editor. This enables users, in particularly non-technical users, to create, manage, preview and publish their content. It allows them to quickly build and create websites without any technical assistance.
The front-end layer, found in a traditional CMS, typically dictates how the content should be distributed and presented. In many cases, this is to a single web-based application, namely websites.
Since the front-end is so tightly coupled with the back-end, which stores the content, databases, and files relating to the inner workings of the platform, there is very little room for flexibility in terms of where the content can be distributed.
In a headless CMS, the "head", which is the front-end, is removed completely, leaving you with the just the back-end, which acts as a content repository. In this type of CMS, developers are not restricted to where they can push their content. The content that is stored in the back-end can be pushed to any display or non-display (e.g. smart speakers) connected device through RESTful API calls.
And, with more than 62 billion connected devices expected to be in households and businesses by 2024, possessing the ability to flexibly deliver content to different devices and touchpoints has become absolutely crucial. If consumers are now connecting to the internet through other devices besides conventional display devices like smartphones, tablets, and laptops, brands who are already engaging with their consumers through these other devices already have a clear advantage.
What is the Difference Between Headless CMS and Decoupled CMS?
When reviewing and comparing different headless CMS products, you will often come across the terms headless and decoupled. Many people think these terms mean the same thing, but there is a clear distinction between the two terms.
While a headless CMS platform comes as a back-end only solution out-of-the-box, a decoupled CMS comes with its own front-end template. But unlike a traditional CMS, the frontend layer in a decoupled CMS is linked to the backend via API calls.
So both headless CMS and decoupled CMS are built on top of an API driven environment. But a decoupled CMS comes with its own set of frontend templates and tools to allow users to create a site without any technical support.
What is a WCMS?
WCMS, which stands for Web Content Management System, is a type of CMS that provides users with a set of tools to help create, publish and manage their digital information on a website without any prior knowledge of programming or markup language. WordPress, Joomla, and Drupal are examples of WCMS - it is fair to say that most traditional CMS platforms are WCMS products.
Almost any WCMS will have the following three features:
The ability to design, produce and maintain personalized content for a website.

The ability for editors to manage workflows concerning the reviewal and approval of content before publication.

An auto-schedule publishing process.
Other features normally found in a WCMS include standard web page templates, editing tools, document management and the ability to add plugins to extend its features and functionalities.
The biggest advantage to a WCMS is that their easy-to-use interface reduces the barrier to entry, especially to non-technical users who are usually editors and marketers.
Comparing Zesty.io vs. Contentful
Zesty.io vs. Contentful At a Glance
| | Zesty.io | Contentful |
| --- | --- | --- |
| Syndicated content; can send content anywhere via API | | |
| Facilitates developer productivity | | |
| MarTech integrations and platform extendability via Webhooks | | |
| User permissions and roles | | |
| Interface for website building; SaaS Web Engine | | |
| User friendly interface for marketing teams | | |
| HTML/XML/YAML/SVG/ICS +more endpoints | | |
What is Zesty.io?
Zesty.io is a closed source headless CMS SaaS solution that was founded in 2010 in San Diego, California. What is unique about Zesty.io, is that it follows a Content-First™ principle, which enables users to deploy full-featured sites without needing any application programming or database skills. Below outlines Zesty.io's key features.
Content Platform
The unique approach to content delivery supports a fully independent front-end presentation layer, which isn't normally found in a pure headless CMS solution. Zesty.io's platform enables content creators to have more control over the design and layout of their content, including both text and media assets, during any stage of the development cycle. The platform also encourages parallel development between front-end developers, designers, and non-technical content managers.
High-Performance Security
Zesty.io boasts a two-factor authentication process powered by Authy and robust permission settings to provide user-level protection. Also, DDoS (distributed denial of service), a type of cyber attack that prevents the intended user from accessing the platform, is mitigated through Google Cloud Platform and Fastly. Plus, media is served by SSL encryption and Fastly.
Also, as a proprietary software, Zesty.io's is managed by a dedicated security team that regularly monitors, tests and maintains the system. Zesty.io has a clean security track record and is kept in line with international security standards (ISO 27001, SOC 2 Type II, and SOC 3).
Content "Anywhere"
The mobile-first approach of Zesty.io enables brands to deploy effective mobile experiences thanks to its built-in responsive design frameworks. The mobile API available in Zesty.io supports the delivery of any content to any mobile device, app or IoT component. Plus, Zesty.io's advanced content models enables users to connect with IoT-devices via machine-readable data (JSON/XML content feeds) without resorting to plugins, modules or custom coding. Plus, the headless nature of Zesty.io enables users to create content once, and deploy anywhere.
Marketing Integrations
The API-driven environment found in Zesty.io allows for seamless integration between your content and best-of-breed third-party solutions, including marketing automation, CRM, analytics, social media, and commerce. Many well-known martech solutions can easily plug into Zesty.io, including Marketo, Salesforce, Optimizely, Slack, and Google Analytics.
Zesty.io also allows you to integrate with legacy systems, via Zesty.io's content API.
Advanced Workflow Management
With Zesty.io, you can create workflows in minutes for better management of approvals and publication of content. The workflow features an intuitive navigation and you can assign a workflow per site, per team, or per user. The workflow feature also supports notifications and alerts for content requests and draft approvals.
Relational Content
Content creators and editors can easily define relationships between content pieces with a click of a button. This allows users to create a comprehensive content model in a shorter amount of time, in comparison to legacy CMS systems.
Built-in SEO Assistant and Analytics Tools
Zesty.io's analytics feature provides you with insights into page views, conversions, and bounce rates. The SEO assistant automatically populates metadata in an instant and applies the best practices to improve rankings. You can also manually adjust the meta content, giving you more control.
The SEO tool also features canonical tags that allows your website to get a proper page ranking, without having to incur search engine penalties or duplicate content issues.
Audit Trail
Zesty.io's Audit Trail enables you to quickly see who has managed your content. You can also go back to view previous versions of your content and roll back to different versions with just a click of a button - saving you from having to start again from scratch.
Advance User Roles and Permission Settings
The roles and permission settings can allow you to assign certain functionalities to either individual users or user groups. You can even assign permissions on a granular level, right down to the content piece.
Multi-site Management
Zesty.io's multisite management enables users to manage multiple sites through a single dashboard. This includes sharing of media, user permissions, and analytics across all sites. Zesty.io also allows you to manage multiple websites SEO on a single platform, even if you are using another CMS.
Enterprise Support
Zesty.io comes with 24/7 support for both editors and developers via web chat, phone, and email.
What is Contentful?
In 2013, a group of developers in Berlin founded Contentful as an alternative to the traditional CMS. Essentially a headless CMS SaaS product, the founders describe their product as a content infrastructure that allows you to create, manage and push content to any platform or device.
Unlike traditional CMS platforms, Contentful follows a three-step process. First, you need to define a content model, which is independent of any custom-made presentation layer, that defines how you want your content to be managed. In the second step, editors and content creators can create and manage their content via Contentful's editing interface. And for the final step, the content is then distributed through a custom-built presentation layer.
Key Features
Developer-friendly API
Contentful comes with a developer-friendly API that enables developers to build working demos for prototyping and create sophisticated applications much faster. In addition, Contentful's RESTful API, that comes with compact JSON payloads, provides developers with full control over content, assets, and translations.
Developers can also create their own SDK (stands for software development kit, it is used to write program applications) in a programming language of their choice. The built-in Markdown editor enables developers to write and publish code faster than any other platform.
Third-party Integrations
The API environment enables you to "mix'n'match" with any API service, whether that may be a CRM, marketing automation, email marketing, digital asset management, or social media platform that is available.
Multi-language
Contentful's built-in backend editor lets you publish content in multiple language thanks to its granular locale settings. Simply type in your content, and the editor takes care of the translation.
SSO (Single Sign-On)
The SSO feature, that is based on SAML (Security Assertion Markup Language), allows users to have instant access to multiple sites created on Contentful's platform by only having to login once at one location or site. The feature also allows you to set user permissions and user accounts.
Content Modeling
Contentful's user interface gives you the ability to create flexible content models. Users can create custom content types, assign them with their individual fields, and rearrange the entries to their requirements.
Easy-to-Use Editor Interface
Contentful's feature-rich built-in editing interface is suitable for authoring all types of content including text, locations, dates, collections, coding, JSON snippets, and more. However, it is important to note the editor interface is not a WYSIWYG editor. Content creators will be able to create the content via the interface, but they would need coding knowledge to create a presentation layer for websites, apps and other platforms.
Support
Contentful is managed and monitored by a team of engineers and support staff 24/7.
So to Summarize, What's The Difference Between Contentful and Zesty.io?
Contentful is a headless CMS solution that is targeted towards developers. Non-technical users can create content via its feature-rich editor, however, in order for the content to be distributed to a website, app or other IoT device, technical expertise is required to develop the frontend presentation layer.
Zesty.io is a decoupled CMS that comes with its own full WCMS (frontend presentation layer). It is catered towards the needs of marketers and editors as well as developers. Non-technical users can develop websites and mobile apps straight away thanks to its platform, improving the time-to-market in the process.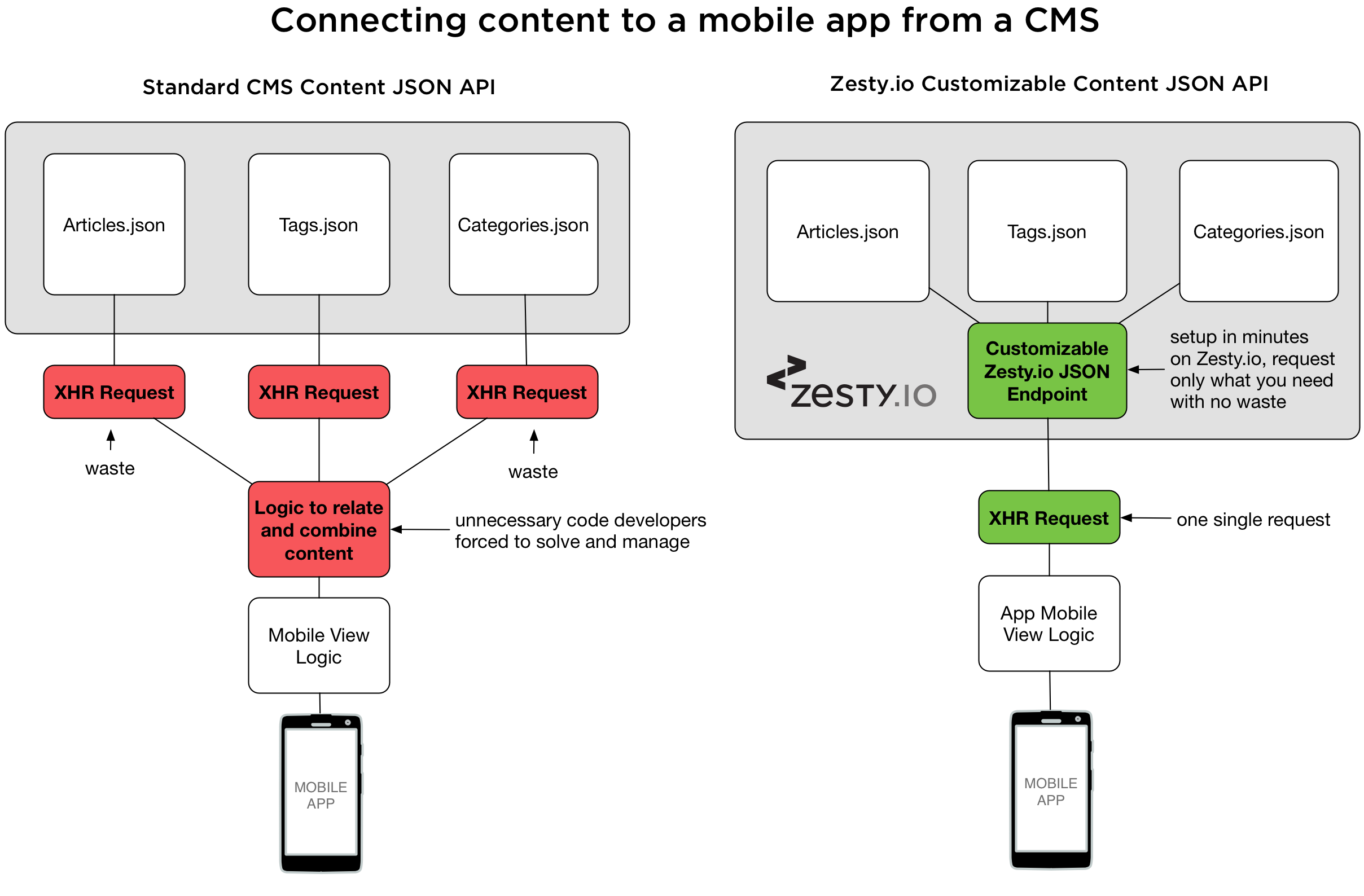 What About Other Headless CMS Competitors?
Besides Contentful and Zesty.io, the market is crowded with other headless CMS providers. One notable competitor is Sitecore, their headless CMS offering is known as the Sitecore Digital Experience Platform.
Sitecore, similar to Zesty.io, has a decent content authoring experience that allows users to update their content as and when required and they are also able to host multiple sites via a single interface. Sitecore's form builder module features drag-and-drop capabilities, enabling users to place fields and button commands wherever they want.
However, that said, Sitecore comes with a steep learning curve and has very little support. If you want to use all the features, you would have to resort to acquiring the services of a certified Sitecore developer to help you properly manage the platform.
At this time of writing, it is difficult to find a certified Sitecore developer. And if you do find one, it will cost you a lot due to supply and demand.
Having a headless CMS platform that is difficult to use and requires a considerable amount of resources, slows down your time-to-market, leaving you at a competitive disadvantage.
What About Open Source Headless CMS Alternatives?
If you don't want to incur a monthly subscription as you would with both Contentful and Zesty.io, the alternative is to look at open source headless CMS solutions.
An open source solution is a software that is freely available for the public to use. The source code can be viewed, shared and modified with other developers and organizations.
The most significant benefit to open source headless CMS solutions, like Directus and Squidex, is that they are free to use and install, which on the outside is very appealing, especially to those who are keeping an eye on their budget.
But while an open source software promotes the idea of self-governance, it is not the most secure solution. In making the source code available to everyone, it becomes more vulnerable to attacks. Developers who don't have the best intentions can easily go into the source code and insert malicious coding.
While we haven't seen many substantial cases of security breaches in the headless CMS market, since it is relatively young, we have, however, witnessed major security incidents with open source traditional CMS platforms like Drupal and WordPress. Drupal's most recent security breach occurred back in May 2018, when over 400 big name Drupal sites were cryptojacked.
For security and peace of mind, you're better off going for a headless CMS that is a closed source solution. With closed source (also known as proprietary) software, the code is not available to the general public and it is only accessed by authorized users who regular review and audit the code to ensure the code runs to its full potential.
What is the Top Headless CMS in the Market?
As the headless CMS market continues to grow, knowing what is the best headless CMS for your business is critical to your brand's future success. There are many options out there, and we even highlighted the 14 best headless CMS products currently on the market.
But there is one headless CMS provider that performs consistently, time and time again: Zesty.io.
Why is Zesty.io a Leader in Headless CMS?
Zesty.io continues to be the most consistently rated headless CMS on Gartner. Many developers have commented on the responsive support they receive from Zesty.io's support team to resolve any queries and issues. And many marketers have particularly liked the intuitive Content First™ platform that enables them to develop and create multiple responsive sites without having any knowledge of programming skills.
Also, with the platform being IoT-ready, the platform is able to publish content to a multitude of IoT devices including VR headsets, connected cars, handheld devices of all sizes, and more.
Plus, Zesty.io is a cloud-based SaaS CMS, meaning the platform can be accessed natively through your web browser, and it is not hosted on an expensive physical server that takes up so much space in your back office. Zesty.io is hosted by Google Cloud Platform (GCP) that maintains 99.99 percent uptime.
But perhaps the most important reason as to why Zesty.io is a leader in the headless CMS market is because its SaaS model helps to reduce your total cost of ownership. With, Zesty.io, you don't need to worry about updating the software or the technical stuff, Zesty.io looks after that as part of their monthly subscription.
Why Zesty.io is a Leading Alternative to Contentful?
When choosing a headless CMS, it is crucial that you choose a solution that is user-friendly to both developer and marketer, especially the latter, since they will be the primary users of the platform.
Having a platform that is solely focused on the developer, like Contentful, will result in heavy reliance on IT to make adjustments to the presentation layer and to the layout of the content - slowing your time-to-market as result.
Plus, when it is the developer's responsibility to create the frontend presentation layer, any issues or update requests that were arise would arise fall on the developer - increasing total cost of ownership. They wouldn't have any support from the vendor since the application was created by the developer.
Zesty.io is the best alternative since it offers the best of both worlds. It is marketer-friendly thanks to its built-in web engine and technology approach, and the API environment enables developers to create their own applications and integrate with current well-performing legacy systems.
To find out how Zesty.io can benefit your brand, get in contact with us today.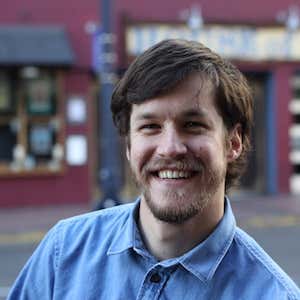 By Stuart Runyan
Developing web technologies is my passion! I'm focused on creating applications and experiences to solve the problems which today's digital marketers face. I believe in web standards, a mobile first approach, access for everyone, open source software and the democratization of information. My goal is to continue the Internet being pure awesome!
---