Headless CMS
Build, test and deploy content quickly
Zesty.io is a headless content management solution built upon flexibility and data for optimal digital experiences across every channel and every device.
Headless CMS without the headache
Empower your marketers, free up your developers, and drive your business forward with a headless CMS that simplifies content production, lowers total cost of ownership, and adapts to your growing business.
Headless digital asset management
Headless commerce
Headless enterprise
Headless blogs & editorial
Headless CMS explained
A headless CMS is a content management system containing only backend code without frontend design. Content can be retrieved via APIs, which allows creators to publish across any device or digital asset, streamlining workflows for a digital-first world.
How our headless CMS works
Create content across devices in minutes. Leverage any endpoint and customize your API using our robust platform.
Design your content architecture easily
Select your model type, define your content models, and relate your content fields, all in one easy-to-use schema editor.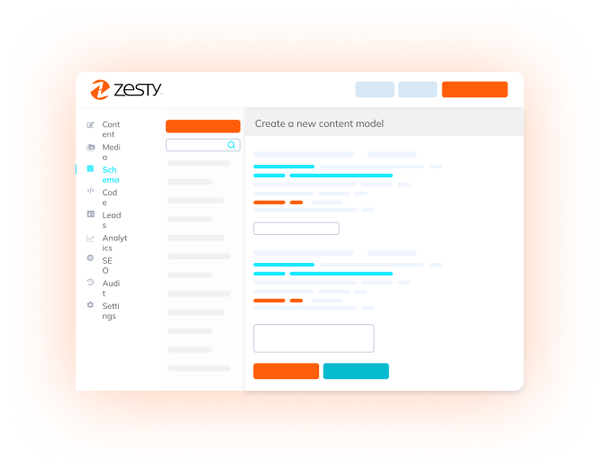 Quickly create and edit your headless content
With your architecture defined, adding headless content is a breeze with Zesty's intuitive content manager.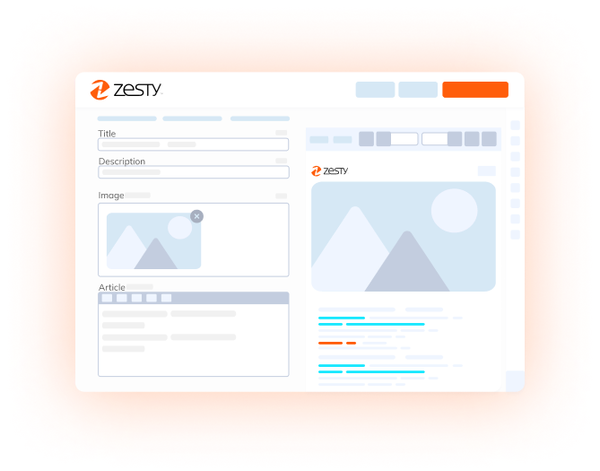 Develop any application, website, or digital experience
Push your content live via Zesty or choose to integrate with any technology stack you choose to optimize your digital experiences
Deploy cloud-natively to any channel
Regardless of how you want to display your content, our headless CMS ensures you have control over where and how your content is deployed.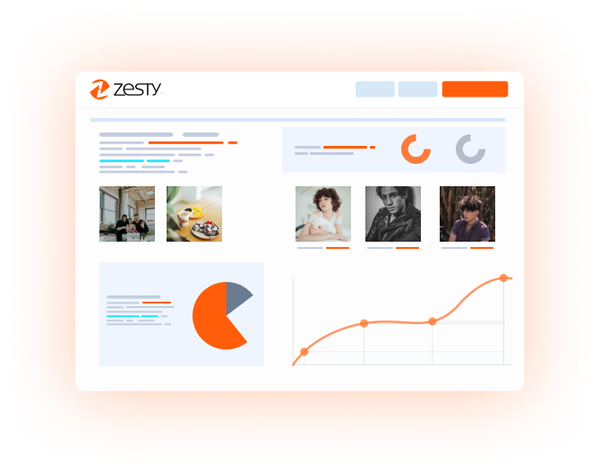 Ignite growth with Zesty.io
Zesty.io gives teams the power to create, develop and distribute content faster.
2.25x faster development
Create, edit and publish quickly with powerful developing and visual editing tools.
99.999% uptime
Reduce churn and improve customer experiences with industry-leading uptime.
54% lower total cost
Create without extensive IT involvement or additional costly tools
Headless built to be custom
From voice-enabled experiences to digital signage, Zesty.io puts the power of headless in your hands. Cloud-native systems, automated processes, and custom endpoints mean you have the flexibility to create more.
Localized Content
Go global with multi-language and localized content capabilities.
Mobile Made Easy
Quickly adapt your content to mobile and tablet devices without having to redesign everything.
Automated SEO
From meta tags to optimized page speed, let Zesty do the work to keep your SEO running smoothly.
Faster Page Load Times
Lower your bounce rates and engage more customers with pages that load 68% faster.
Flexible Digital Asset Management
House all of your digital files in one place, with an integrated system that can support SVG, Webp, JPEG, PDF, GIF, and more.
Custom Endpoints
Build your own endpoints and Zesty.io will automatically update content
URL routing management
Define URLs and create new pages without developer intervention
301 Redirects
Manage redirects in the platform in one simple-to-use interface
Easy editing experience
Access live previews, on-page editing and simple composing with Zesty's tools for non-technical teams
Design Headless APIs
Create content across devices in minutes. Leverage any endpoint and customize your API using our robust platform.
Integrations
A
Headless CMS

That Plays Well with Your Tech Stack

Whether you're looking to keep your current tools or switch to new platforms, Zesty can integrate with tech stack you need.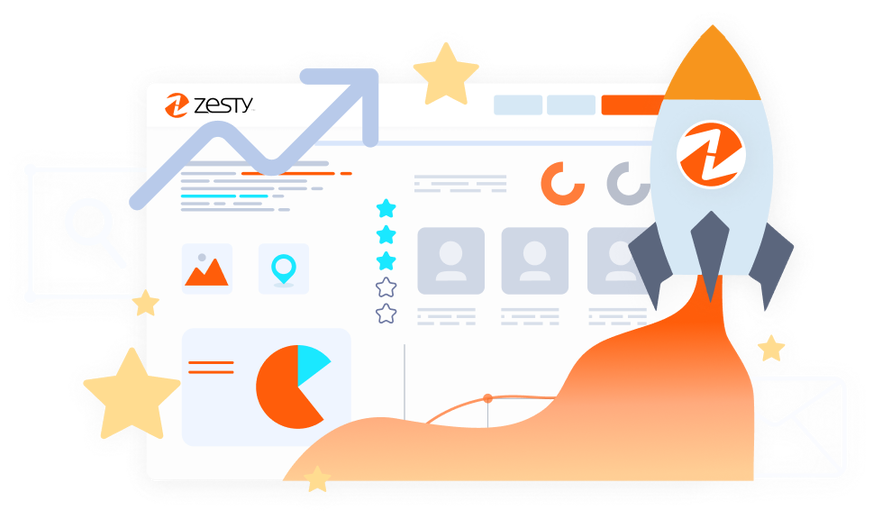 Start building with
Zesty

today

Get started for free or request a meeting with our team to talk through your goals.
---