Choosing a new CMS for your company is a daunting task, and the selection process can be exhausting. You're managing expectations internally, trying to figure out what's going to work, what fits in the budget, what meets tech requirements, all while making as many internal users as happy as possible. On top of that, you're juggling reps from multiple companies all vying for your attention… it can be a challenge.
A full vendor-guided demo is a critical part of the software evaluation process. You can try before you buy, which is ideal, but you'll only extract maximum value from a CMS demo if you've done the right prep! Following these suggestions will help you make as much of an apples-to-apples assessment for your team as possible and let you pick the best-fit CMS for your organization.
Prequalifying a CMS
To avoid demo-saturation (a dangerous state of mind in which every dashboard, sample asset, and template starts to look exactly the same), you need to whittle your options down to a maximum of three to five CMS suitors to take forward to the demo stage.
There are crucial questions (ten listed below) that you should ask yourself and others to initiate the cull. Your CMS lies right at the heart of your organization, and you must consult all relevant stakeholders (including developers, marketers, content creators, and executives) at this early stage.
10 Key CMS Pre-qualification Questions
What are you building? Sounds straightforward, but is it? Can you identify the core goals of your organization? Because a demo isn't about ticking features off a list, it's about discovering the CMS that will help you achieve your objectives most effectively.

What might you build in the future? Future-proof your decision by ensuring your chosen CMS meets the needs of tomorrow as well as the needs of today.

Should you choose on-prem or SaaS? We like to think this would be a natural choice, but there are pros and cons to both, and all stakeholders have to be on the same page. Check with your technical leadership to learn if there are any requirements that preclude you from choosing either SaaS or on-prem solutions.

Should you go headless? Do you want a traditional CMS with a front-end or a headless one that serves as more of a content repository? Or, do you have needs for both, and are you looking for a decoupled CMS instead?

What are your pain points? What specific problems are you experiencing with your existing software that your new CMS has to resolve? Check with all departments (marketing, SEO, devops, frontend, etc.) to ensure you've accounted for all of your team's pain points.

What are the Must-Haves, Should-Haves, Could-Haves, and Won't-Haves? Use the MoSCoW method (a straightforward prioritization technique that categorizes the needs of each stakeholder group) to ensure you take everyone's needs and wants into account.

What are your quirks? Every company has a small number of unique organization-specific needs. What are yours? And can your CMS cope with them?

What's the budget? It's the all-important question and one that will rule out options straight off the bat. SaaS offerings tend to have more transparent and scalable pricing structures.

What's the timeline? How long will it be before any change is enacted, and what onboarding duration is deemed acceptable?

How will it integrate into your stack? Will the CMS need to integrate with any internal or third-party applications you're currently using, or hope to use in the future?
The Art of the Intro Call
Your next step is making those calls. Your initial point of contact will most likely be a BDR (business development representative), followed by an AE (account executive) if things progress. This call is your opportunity to discuss your needs and make a final decision as to whether you will include this company on your CMS shortlist to take to the demo stage.
For the companies that make the cut, a further call about a week out might be necessary. You want to share as much relevant information as possible and provide a list of criteria that will determine your choice. This call gives the rep the best opportunity to configure the software to meet your needs. You're not trying to catch anyone out: the amount of effort the rep expends on prep will tell you a lot about how valued you will be as a future customer.
Preparing for the Demo
Develop a Rating System
You need to have a standardized rating system in place before the demos begin to ensure you're comparing each CMS fairly, on facts over opinions (that's not to say feelings aren't important - they are.)
We recommend creating a scorecard that lets you rank each CMS against the specific goals and KPIs you identified earlier in the Prequalification stage. A features matrix can also be useful, so you know which CMS does what. Rate each CMS right away after each demo, when the results are still fresh in your mind.
Time for a Bit of Roleplay
You should put your rep on the spot and make them think creatively during the demo, testing them on how their software will solve your problems. But they are going to ask you questions too, so best to be prepared (especially if you're going to make a good impression on those sitting in on the demo with you!).
Practice, either by yourself or (even better) with a trusted colleague - you don't want to gloss over anything vital because you can't get your words out, or accidentally over-reveal your hand. These are the types of questions your rep is likely to ask:
Are you currently evaluating other vendors?

When do you expect to make your final decision?

Who's involved in the decision-making process?

What's your timeline for implementation?

What's your budget?

What are your goals and objectives, now and in the future?
Who You Should Bring to a Demo
Surprise - you can, and should, do more than one demo. Treat the first as a discovery session for you and one other person (you do need somebody else to bounce ideas off). If you determine that the CMS is a viable solution, then schedule in another demo, and this time you can bring in the big guns.
You want a maximum of five people present - any more than that and things descend into chaos. You need a mix of technical and non-technical stakeholders, so make sure that you schedule your demo (to include a team debrief) at a time that's convenient for everyone (no mean feat!)
During the Demo
What Should You Be Doing?
We highly recommend recording the demo (Screencastify is a good option for Chrome users) because there's always something to which you'll want to return. Besides that, take notes and have your scorecard and features matrix at hand.
Try your best to create a jovial, lighthearted vibe during the demo. Avoid prolonged silences, and ask questions (see below). When a demo is a total snooze-fest, and people can't wait for it to (finally!) end, you don't get value for your time, or give the CMS a fair shot.
A bit of joking around with your rep will teach you a lot about the culture of a potential future partner. Treat it like an interview - will they be a good fit?
25 Essential Questions to Ask Your Representative
How many people work at your company? How has it grown? How many customers do you have? (This gives you an idea of how important your business will be to them.)

Who are your existing customers? Who has build something similar to what we're looking to build?

Do you have any customers of a similar size in our sector?

What do you know about our company?

What do you know about our industry?

What are the strengths and weaknesses of your CMS versus your competitors'?

What are the unique attributes (differentiators) of your software?

How easily will it integrate with the other tech in our stack?

What are some of the most popular and successful integrations that other customers are using?

How easy will it be to import our historical data (if you're not starting from scratch and leading a migration)?

How frequently do you issue updates, and does this ever cause downtime?

How much downtime has there been over the past 12 months? What can we expect for an SLA for uptime?

Can the CMS be used offline?

Is training/onboarding included? What's the process? If not included, what's the cost?

Will we have a dedicated success manager?

How long does it usually take for the CMS to become fully operational?

What level of support is available, through which channels, at what times of day?

How do you make sure that the CMS is secure?

How many user roles can we create, and which permissions can be modified?

How vibrant is the user community?

Will our usage be capped in any way? How scalable is it?

Are there any additional costs? If so, what for, and how are they charged?

Can your CMS be used on all devices?

What role will our developers have to play to ensure the CMS runs smoothly?

What are your CMS's omnichannel capabilities?
Post Demo
The Debrief
The debrief is essential and has to take place immediately after the demo, while everything is still front-of-mind. It's an opportunity to take stock, fill in any missing spaces on your scorecard, and discuss the demo with your team. Try and schedule a half hour post demo with all of the attendees to take notes, compare opinions, and make a list of any questions you forgot to ask during the presentation for your rep.
Ultimately, you want to know this: can you forge a consensus around how well the CMS has performed? Will it promote unity and collaboration within your organization?
Rank the CMS against the goals and objectives you identified at the beginning of the process to stay on task and avoid being swayed by a charismatic rep or novel, but ultimately unnecessary features.
Time to Break the Good/Bad News
Once all of the demos have taken place, you should be in a position to choose the CMS that best fits your needs. You can now contact the reps that haven't made the cut and tell them the bad news, providing feedback if required.
Finally, contact the successful rep and work together to set expectations for the next steps. Your rep may lead the charge on this as they likely have a process in place, but if you have something in mind for next steps, speak up and share!
</div>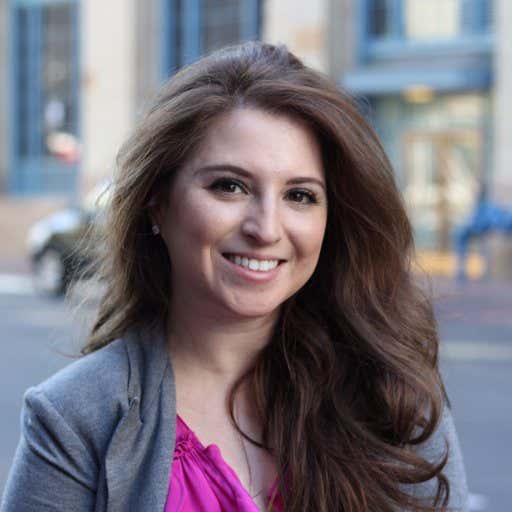 By Chloe Spilotro
Hooked onto the platform since first using it through the Zesty.io Incubator Program at the University of San Diego. Passionate about all things marketing, IoT, and helping businesses leverage technology to grow and become major players in their industries.
---