Not Categorized
Considerations When Migrating Out Of Legacy Cloud Suites (Adobe, IBM, Oracle)
Monolithic CMS' are dying a slow death. 
As Gartner noted in the Marketing Technology Survey 2019, "Best-of-breed buyers are getting more out of their technology." Integrated suites are becoming less preferred. Only 27% of integrated suite buyers meet business needs instead of 48% of best-of-breed platforms— or Digital Experience Platforms (DXPs) users.
Despite the number of functionalities present in integrated legacy suites, they tend to provide significant challenges that can make it difficult to migrate or scale your technological stack. Not to mention the high ongoing costs needed to keep the lights on. 
Feature-rich legacy platforms such as Adobe, IBM, Oracle offer all kinds of capabilities, but the question is; are they really as valuable as they seem? 
This article will provide you with the differences between legacy cloud suites and best-of-breed DXPs, and the factors to consider when migrating from them.
What Is a Legacy Cloud Suite?
Legacy cloud suites are platforms that offer  an integrated, all-in-one set of functionalities; what's available out-of-the-box depends on the vendor... Legacy cloud platforms offer several functionalities altogether, regardless of whether you need them or not. Similarly, they come with limitations in terms of extensibility and integrations, meaning you'll have to rely on the platform for upgrades, maintenance, security, third-party extensions, and features.
Some examples of legacy cloud suites include Adobe AEM, IBM Cloud Pak, and Oracle WebCenter.
Adobe AEM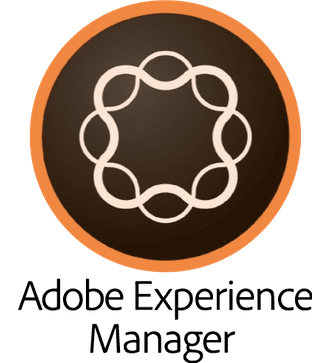 Adobe AEM is a content management suite that enables easy and dynamic management of digital assets. Like all monolithic or legacy platforms, Adobe has several limitations—and frustrations—for large enterprises. It's a convoluted platform with limited components and complex customizations. One Gartner review highlights the difficulty with Adobe AEM, stating that there is a "heavy need for professional services - Adobe integrations often don't work as expected out-of-the-box."
With its niche development technologies such as OSGi, JCR, Oak, and Sling, AEM is almost impossible to set up or customize without a team of experts. On top of that, it doesn't provide native integrations with several best-of-breed applications, making it extremely difficult to create uniquely attractive websites or interfaces that generate leads and sales.
IBM Cloud Pak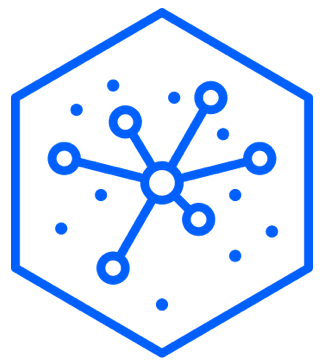 IBM Cloud Pak is a comprehensive out-of-the-box suite that provides several features and functionalities. Even with IBM Content Manager and CMOD as one of its core functions, it fails to offer innovative, best-of-breed functions. In addition to that, its documentation is highly inadequate and limited.
Additionally, IBM's  suite of products has become quite stale; competitors offer more innovative services. These all make for a monolithic platform with outdated APIs and components that are severely difficult to scale and not entirely cloud-friendly. What's worse? Upgrades lead to a significant amount of downtime.
Oracle Webcenter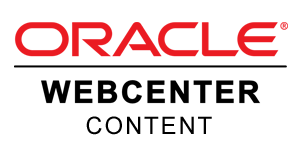 Oracle WebCenter is a highly effective and widely used CMS platform to display advertising materials on the web. With a poor UI, it can be confusing and time-consuming to navigate and set up. It offers a mix of features for low-code application development, content publishing, and multilingual support that range from incredibly innovative to frustratingly outdated.
Although you can customize and integrate features according to specific needs, the process is expensive and highly challenging. The documentation is not comprehensive enough, meaning you'll probably need the help of a costly expert to set it up. Similarly, upgrades are slow and can take a while to implement new changes.
The Pitfalls of Legacy Suites
The following are the challenges and difficulties that legacy cloud suites face:
High initial + ongoing costs: Many legacy suites claim to offer all the features you need and more in one platform. That means you'll be paying for services that you don't use. In addition to that, the complexity of these platforms may mean that you'll require the services of specialized developers or partner services to set up the platform, costing you more in the process. 

Vendor lock-in: Having a monolithic cloud suite means you can only choose from the integrated set of services that the vendor provides. In addition, you'll have to depend on the vendor for new features and upgrades. Vendor lock-in means you won't have a chance to integrate other best-of-breed services outside of the platform. It will prevent you from innovating beyond the capabilities of the suite.

Scalability: The underlying infrastructure of legacy platforms makes them almost impossible to scale. Even with new functionalities, these platforms are still inherently limited when it comes to headless, API-first, and cloud-native platforms.

Time-consuming: In legacy cloud suites, implementations, migrations, and upgrades are usually lengthy, resulting in a long time to market value. In addition to that, upgrades can lead to high downtime. The process of setting up the system can take months before you can begin using it. And migration takes even longer with added difficulties.

Complexity: Many legacy suites use niche technologies that require specialized developers to implement. For instance, Adobe uses OSGi, meaning you'll need to hire developers with the skill and capabilities to work with suites.  On top of that, legacy platforms come with inadequate documentation, which means that  content authors have to rely on developers for almost everything. 
Uninteresting for Developers: Developers are eager to learn new skills and experiment with next-generation technologies. Working with outdated legacy systems no longer interests them, which makes investing on a legacy platform a poor choice for enterprises looking to attract top talent.
Why Move from Legacy CMS to a Best-of-breed CMS?
Increased Agility 
With a best-of-breed technology stack, coupled with a headless CMS at its core, you can be more agile and flexible to change. You don't have to confine yourself to one platform; you can choose the technologies you want for every functionality.
In that way, you don't need to pay for one ubiquitous platform with functions that you'll never use or that are outdated anyway. For instance, a headless CMS' costs less and does not take as long to implement. Having API endpoints connected to several other third-party software makes it easy to satisfy consumer demands and stay competitive.
Rich and Innovative Digital Experiences
Legacy cloud suites offer limited user experience options. It typically stems from a limited set of templates, designs, fonts, and colors. Often, legacy platform users have web portals with a similar custom look and experience. And even with that, much of the designs are outdated. 
That's not the case with DXPs. Customizing the entire user experience through content delivery, CRM, frontend applications, marketing campaigns, personalization, search capabilities, and analytics are unique benefits of a DXP. The beauty is that you can customize your distinct business needs and use cases.
Content and Data-Driven
Content remains king. And data is the queen. Most legacy cloud platforms lack support for modern cutting edge technologies such as AI and ML and modern architectures like MACH, which are essential to making sense of data and enabling innovation. This limitation is sometimes a barrier to remaining competitive in an ever-demanding market.
Enterprises embracing DXPs can benefit from microservices, headless-first, API-first, and cloud-native architectures. Through a DXP, they can use a data-driven approach to personalize content and deliver tailored experiences to users. Similarly, having ML and AI technologies can help provide further insights into making better business decisions.
Scalable Multi-Layer Application Integration
Legacy suites provide integrations to several other applications out-of-the-box. While this can seem like an advantage at first, it can quickly become too cumbersome and difficult to scale when you want to integrate a variety of functionalities not supported by the vendor. 
By migrating from a legacy cloud suite to a DXP, you can scale your application by integrating best-of-breed third-party applications to meet your requirements. You can add or remove these applications whenever you want. It won't affect the overall system. 
Cost Reduction and Resource Management 
Over time, legacy systems can become excessively expensive, especially if updates are no longer available for specific services. Among the hidden costs of legacy systems are costly server upgrades, hiring niche developers, excessive maintenance, and the adverse effect of slow, outdated systems on the user experience. 
Having legacy systems means that you cannot integrate the most appropriate solutions. Instead, you're locked into paying for unnecessary and obsolete functionalities. In a DXP, you only need to integrate the services you need, so you only pay for the services you use. By doing so, you can provide a user experience that is fast, seamless, and not resource-intensive.
Upgrades and Support
With legacy suites, some applications may become outdated with little or no upgrades. Many of these issues stem from legacy platforms' attempts to manage multiple services at once. Worse yet, these services may leave you vulnerable to security breaches. If a service becomes insecure or malfunctions, your entire architecture may be at risk.
When it comes to DXP, most of the services are managed independently. You can take advantage of applications with timely upgrades and adequate support. If a particular application becomes obsolete or deprecated, you can easily remove it from your stack. In essence, you can plug in or remove services according to their performance, cost, documentation and support, and reliability.
Security and Compliance
In a legacy suite, a single service failure can lead to a total system breakdown. Due to the integrated nature of these services, they can cause massive downtime, data loss, or have adverse effects on your brand. The loss of any data in such a scenario may lead to a breach of regulatory standards and result in potential legal penalties. Ensuring the utmost security and compliance is an utmost necessity.
DXPs, by contrast, offer a greater degree of security due to their modular design. One failure in service will not affect the whole system. Your infrastructure will be more secure and more accessible by reducing the blast radius.
Search-based Content Capabilities
Because they lack federated search capabilities, legacy suites cannot facilitate content discovery across several third-party applications. Managing and delivering various content models across several brands and channels is a big challenge for legacy cloud suites.
By leveraging simple, intuitive search tools, DXP users can navigate through large content repositories, helping you save time and providing a better viewing experience. This functionality helps users narrow down their search results to the most relevant information.
First Steps Towards Migration (It's Easier Than You Think!)
Is there a perfect time to transition to a digital experience platform? The short answer: Now. 
The truth is, migrating to a DXP is a journey. In a rapidly changing technology environment, enterprises without an appropriate digital transformation strategy will be left behind. Having a headless CMS in place might be the pathway you need in the early phases of your journey. It can serve as the basis of your enterprise strategy for building a digital experience platform.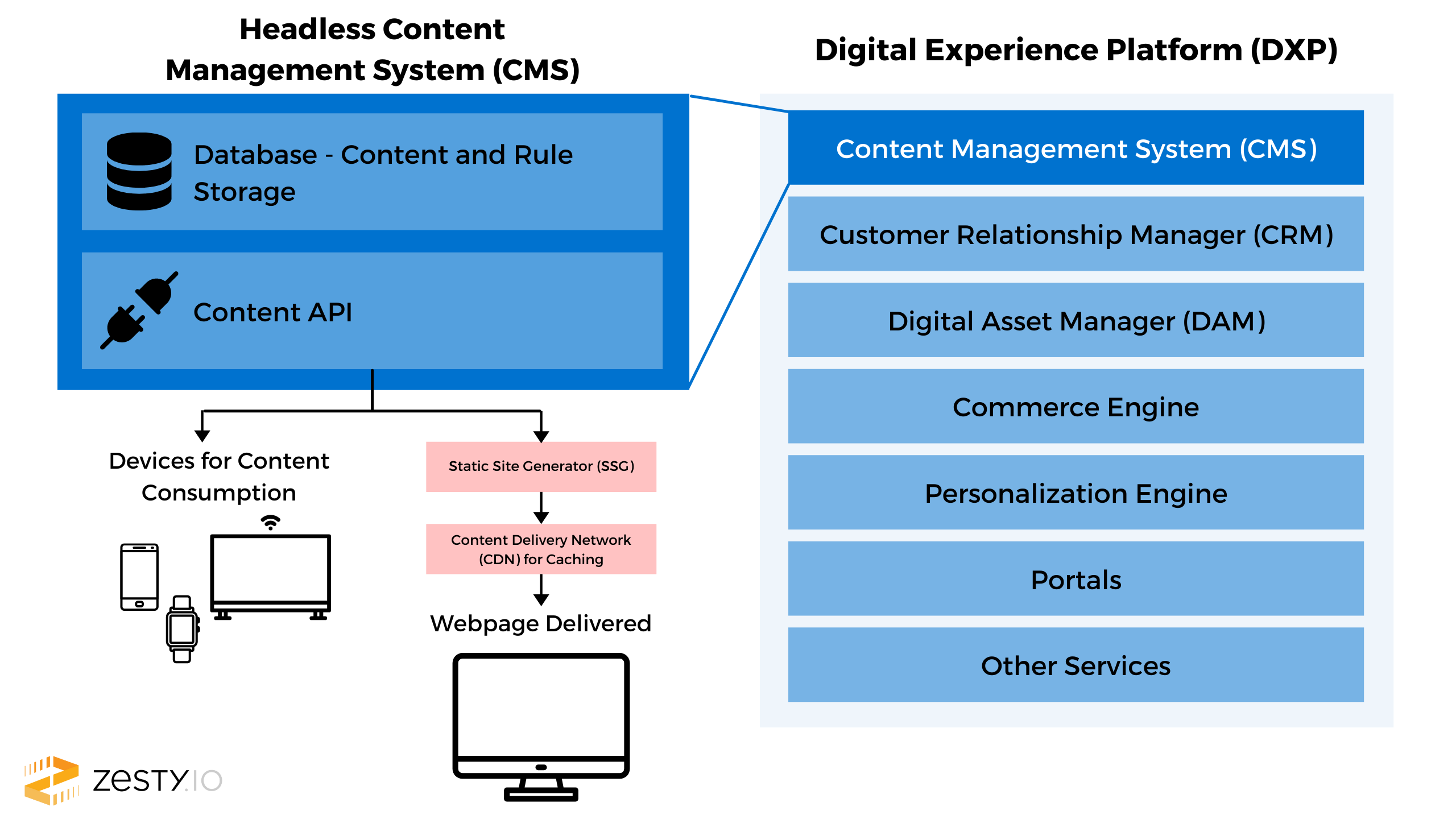 Through federated content, headless CMSs can easily connect to legacy platform databases, so that relevant information is available.
Other functionalities you can consider down the line include:
Shopping carts for user purchases

Payment gateway integration

CRM to send offers and confirmations of orders

PIM for managing products, stock, and inventory
You can use the headless CMS as the central hub for all content and localization in a microservice architecture. Next, you can choose to integrate a PIM and an eCommerce service via an API, pulling content from the CMS and delivering it across several frontend channels that handle payments, products, and carts.
After that, marketing teams integrate various tools with the frontend via APIs, CDPs, and tag management for promotions, reporting, analytics, and CRMs. As a result, you can tailor your stack to fit seamlessly with your workflows and goals, enabling you to deliver a digital product that meets your customers' needs.
Zesty.io: Enterprise Functionality With Best-of-Breed Headless Architecture
Migrating to a DXP from a legacy cloud suite allows for greater flexibility and agility with an enterprise-grade infrastructure. If you want to facilitate digital transformation with a customer-centric approach, choosing the perfect headless architecture that is cloud-based, API-first, modular, and highly scalable is crucial.
Zesty.io is a hybrid headless CMS with an integrated WebEngine that helps render, build, and deliver web pages with more flexibility and control. With the WebEngine, you get the best of PaaS and SaaS platforms with an API-first approach that offers content management capabilities for workflows and fast marketing campaigns, making it your ideal digital experience platform.
Still interested in learning how a digital experience platform can transform your business? Have a look at how Singlife Insurance grew 185% in one year with Zesty as DXP.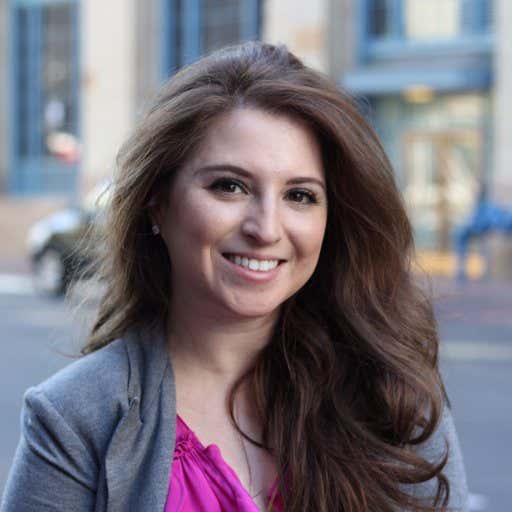 By Chloe Spilotro
Hooked onto the platform since first using it through the Zesty.io Incubator Program at the University of San Diego. Passionate about all things marketing, IoT, and helping businesses leverage technology to grow and become major players in their industries.
---