As we approach the end of the year here at Zesty we have been busy working to improve processes and and promote productivity for Zesty users. Continue reading to see what we did this month to enhance the Zesty experience!
Searching for the status of a bug, enhancement, or feature request? All of these are available via our publicly accessible Manager UI and Accounts UI repositories.
November Summary
2 New Features

3 Changes

6 Fixes
New Features
Home (Dashboard)
Upon logging into Zesty, users are greeted with a sleek and functional dashboard that offers quicker content creation, at-a-glance instance data, and additional resources. See a summary of your instance's traffic and usage, plus your team's most recent actions up at the top. Jump right back into to your latest edit or quickly create something new from the tools on the homepage. To see the whole experience and learn more check out the full product announcement: Introducing Home: An All-In-One View of your Zesty Instance.

Google SSO
Login into Zesty with one click through Google single sign-on, our latest SSO partner. View the full guide and answers to the top questions around SSO in the release: Zesty single sign-on: everything you need to know.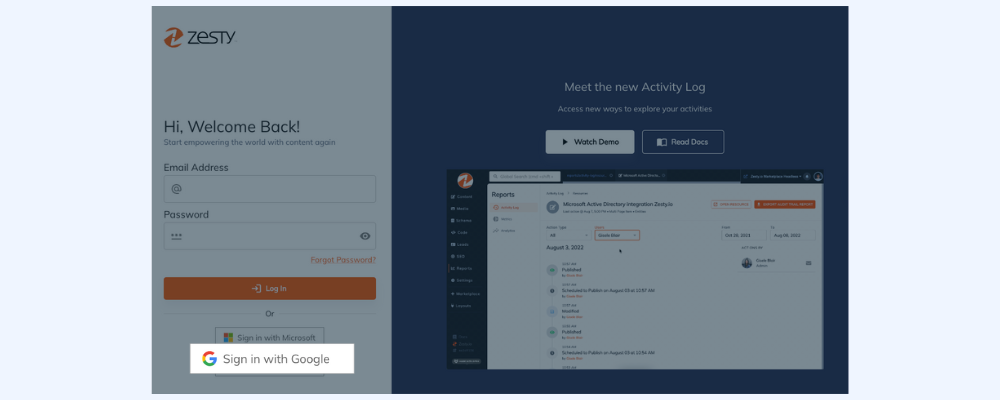 Changes
Timestamp added to Leads Export CSV #1485

Metrics App Using RTK query for data fetching #1522

Upgraded to TypeScript version 4.9 #1543
Fixes
Manager Fix sort by visual stutter in media grid caused by mui default small button pixel fraction height #1481

Manager Use onClose prop for rename, delete, and move dialogs #1517

Manager Add delete button to head tags #1518

Manager Add spacing between Data Settings #1519

Manager Only handle selecting of an asset if file has an id #1527

WebEngine Hotfix ignore the force www redirect rule for non apex domains