What is a Microsite?
What is a Microsite? In a nutshell, a Microsite is a website separate from the businesses' main homepage or URL that contains branded content. A Microsite can be a subdomain, however it usually has its own URL that is completely independent of the main website's URL. It still represents the same brand, but it is more singularly focused than the main site.
If you aren't already using Microsites in your marketing, you might be wondering what value they bring to the table, as compared to you company website. Unlike your "official" website, which provides a comprehensive overview of your entire business, Microsites are more singularly focused. They are often used for product launches, time-sensitive events, and other content that you might want to set apart from your official company website, with targeted content produced for a specific audience.
Top Two Use Cases for Microsites
Microsites make excellent choices for promoting a standalone marketing campaign. Depending on the direction of the campaign, many businesses choose to add interactive content to their sites such as quizzes, videos, surveys, and anything else that might attract attention to the brand. By using a Microsite to draw traffic and attention to the campaign, your official website can serve its purpose of providing more evergreen content to a wider audience. Even if you push out content to your Microsite daily, you can can choose to update your main website as needed, while enjoying the traffic your Microsite generates.
Red Bull, known for their series of Microsites, has a long history of building Microsites built for influencer marketing campaigns. These microsites can be seen as a pinnacle of information around a specific topic, making them much more relevant to search engines. Because Microsites can have more relevant content, as compared to a landing page, they lead to greater SEO (search engine optimization) benefits. For example, Red Bull's digitally interactive microsite for Karl Meltzer fans, has achieved page 1 status in Google for those researching Karl Meltzer, a famous ultrarunner. In addition to SEO, Red Bull has managed to stay brand consistent by creating an engaging and interactive digital experience. The site allows you to journey through the actual notes of Karl's adventures.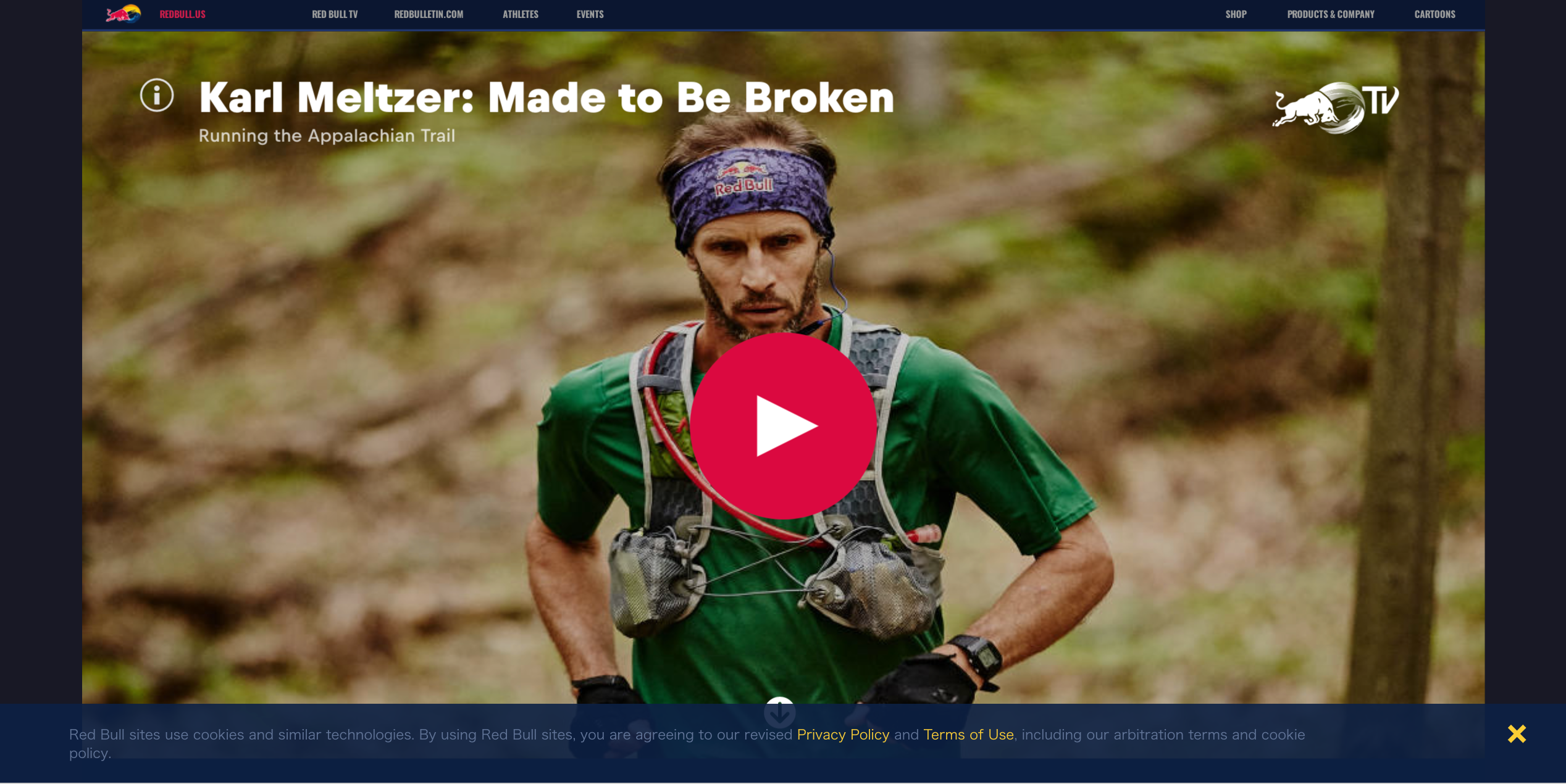 Another common use for a Microsite is when you need a repository for current content on a regular basis, much like a media site. These types of Microsites act almost like a newspaper or magazine website. On these types of Microsites, content is published daily and there is a continuous feed of fresh articles, videos, and other media for consumers to digest. To reach the intended audience, this type of content marketing should always be combined with SEO, and Automatic Search Engine Optimization. With highly optimized content, Google will give authority and credibility to your microsite, which can lead to added brand loyalty, audience reach, and revenue.
If you're still not convinced that a Microsite is right for your brand, or would like to learn more about their capabilities, we've surveyed the best Microsites of 2018. Enjoy!
5 Best Microsite Examples of 2018
To provide inspiration for a new service, campaign, or content strategy you may have in the works, we have gathered different use cases of Microsites, including those built on our content marketing platform. Take a peek at a few of the best Microsite examples we've seen this year.
Microsite #1 - A Human Project
Built on Zesty.io, A Human Project is a Microsite for a nonprofit aimed towards generating donations, which are used to creating gamified education platforms across the world. While the Microsite pushes you to discover more about A Human Project, the site has one core goal: conversion. At the bottom of every page you can see the donation form.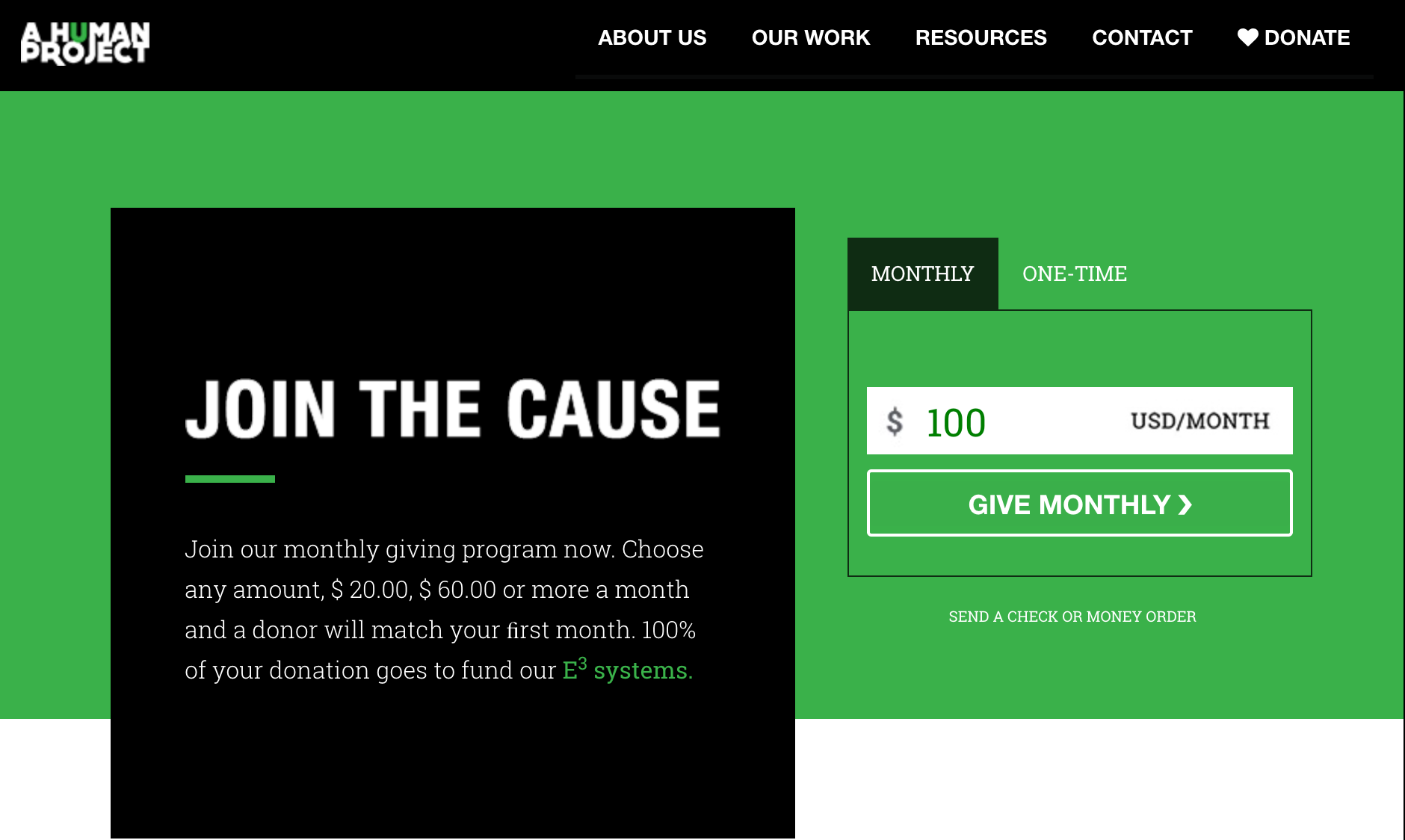 Microsites like these have the capacity to create an engaging user experience, and can be used to evoke activism around a movement or message.
Microsite #2 - Collaborative Fund: The Bright Future of Car Sharing
This site brings together all things car sharing. It is big on information, with a lot of media to keep users entertained. The site is designed to transition through pictures and users will discover new information with each new illustration. Using the mouse to hover over different sections of each picture reveals new snippets of information corresponding with the illustration. The Bright Future of Car Sharing is a great example of how a Microsite can focus on creating an entertaining and interactive experience for the user without the need to be overly complex.
What is dark data? This Microsite focuses on dark data and what you can do to protect yourself. Most people aren't aware of the impact dark data can have on you and your family. This Microsite is full of easy to read infographics that inform the user of dark data's hidden potential.
Lucidworks pulls you in with their opening, comparing an iceberg to the amount of knowledge you actually have about your own data. They explain that only 1/8 of the iceberg is actually visible to the eye (what we see above water) and that the remaining 7/8 of the iceberg remains underwater, hidden from view. This analogy contrasts what we know about digital data and how large organizations aren't even aware of what a huge issue the "data that lies beneath" can cause for the public. They list some staggering statistics about the average data breach, which costs an average of $3.5 million dollars per breach!
As you continue to scroll through the Microsite, Lucidworks does a great job of explaining what makes data go dark, and they also give tips on protecting yourself from the dangers dark data might pose to you and your family. At the end, Lucidworks explains what they are trying to do to stop this epidemic by focusing their efforts on making data more secure and out of reach of those who would mean to do us harm.
Microsite #4 - Mitchell: Program Freedom
Mitchell provides software solutions for claims management, and the collision repair processes. In MItchell's case, they developed a new product and developed a Microsite as part of launching a campaign around the product. This Microsite, Program Freedom, delivers a cloud-estimating and communication platform to help insurance carriers, repair facilities, suppliers and OEMs. As an example of the content marketing strategy at play, there are topical and relevant news articles, which help drive search engine traffic. Because the Microsite A microsite can be a perfect time to introduce a set of articles related to your campaign or focus product. However you should be combining content marketing with SEO. Throughout the Microsite, the user is taken through the different facets of the platform, with articles to provide credibility and added context. There is also a helpful FAQ, and consistent CTAs inviting visitors to connect and request more information, to increase conversions.
Microsite #5 - ProPublica: Workers' Comp Benefits: How Much Is a Limb Worth?
This Microsite is brought to us by the nonprofit newsroom ProPublica. The title alone is enough to grab your attention, "How much is a limb worth?" Typically, we wouldn't think of attributing a monetary value to an arm or a leg, but ProPublica brings light to the fact that there is indeed a dollar amount assigned to body parts, and this number differs from state to state. Often, workers become displaced from their field when they've sustained such a drastic injury, and the loss of wages for can devastating. The Microsite calculates the lost wages that result when a worker loses a limb, and highlights the severity of these types of "on the job" injuries. ProPublica's intention is to show how workers compensation benefits fall short of covering the actual damage sustained by these serious injuries. With compassion and sound reasoning, they show how even the smallest injuries, such as the loss of a finger, could potentially affect a person's wages for life.
Microsite #6 - Krylon: The World's Longest Yard Sale
Many companies create cause-driven Microsites that are authentic to their brands. For example, Krylon was the first company to use Pinterest's "buyable pins" feature. Their The Longest Yard Microsite follows the Krylon team throughout 600 miles of travel, across six different states, in order to put on the very first Pinterest yard sale. The Microsite contains a synopsis of their journey, with real-time updates for an engaging viewer experience. This creative use of storytelling helped not only create a richer and more interactive Microsite, but also enabled Krylon to raise $1,898.63 from the sale of items for Charity Wings Art and Craft Center. These kinds of interactive environments are great for social media efforts also - as a direct result of this Microsite, Krylon's Pinterest followers increased by 400%.
Microsite #7 - Write the Elf by IDEA Agency
It's always Christmas over at Write the Elf, a clever holiday-themed microsite built on our Zesty.io platform. Instead of a simple landing page, IDEA Agency placed lively video content at the forefront of this engaging Microsite, making it an effective centerpiece to their holiday campaign.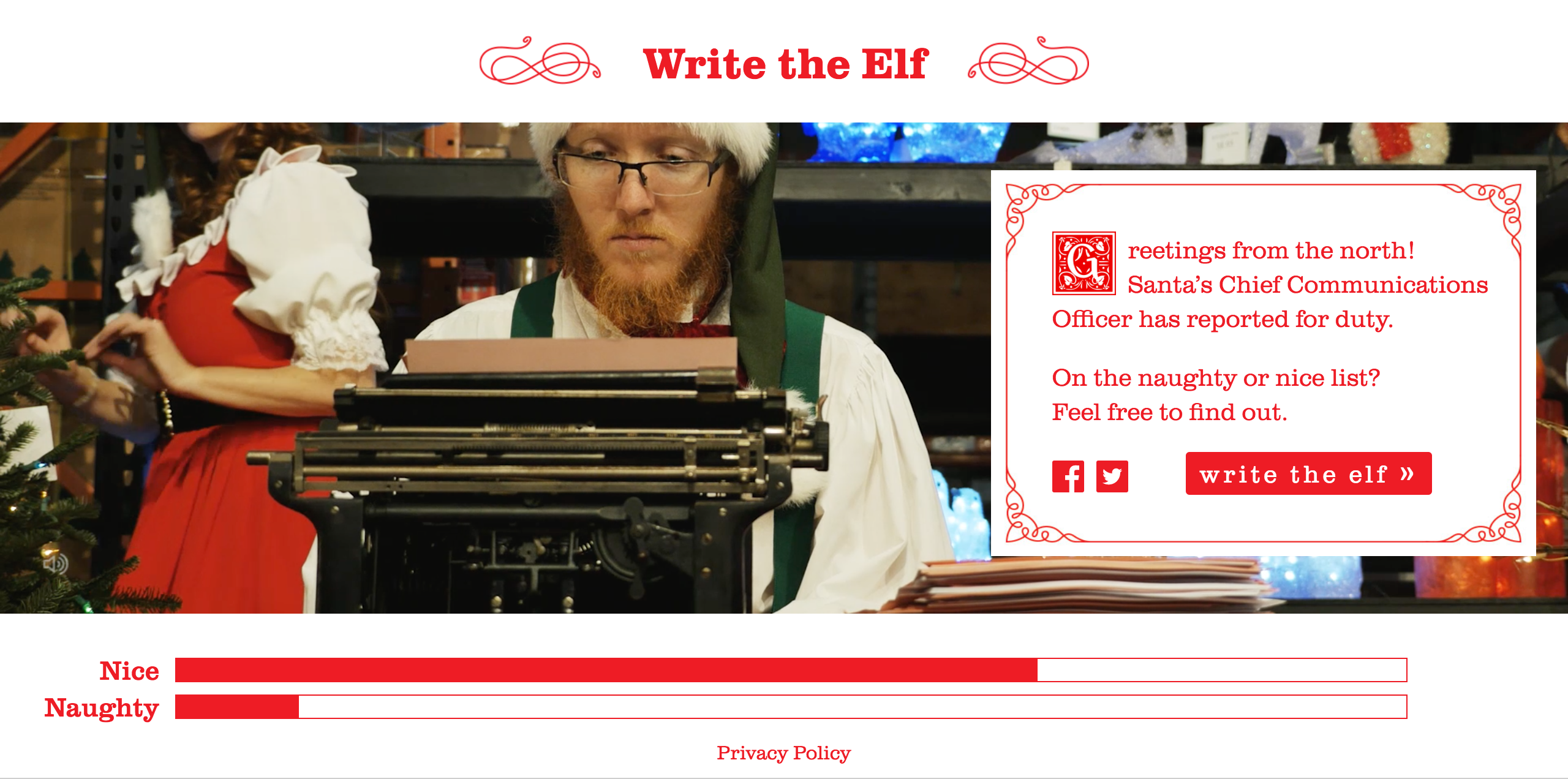 On the Microsite, kids (or kids at heart) can write a letter to the elf, with plenty of space for a comprehensive holiday wish list. Once the 'letter' goes through, the sender is sorted into the either the nice or naughty category. Thankfully, the vast majority of participants have been deemed nice, meaning there is hope for the future generation after all.
Microsites are all about user experience, and these seven sites are excellent examples of Microsites that offer high quality user experiences. People want to be entertained, and engaging content is what will keep them coming back for more. By providing the right CMS platform for your developers and content producers, they will be able to push content to your Microsite easily and seamlessly, and produce new Microsites as quickly as you can envision them.