An effective content management system can be a real game-changer when it comes to implementing layered marketing strategies.  Marketing automation efficiencies using web content management systems, features, and best practices can grow your business by leaps and bounds when properly implemented.
Choosing a coupled, decoupled, or headless CMS can be a daunting task.  There are skews of content management systems out there, and it can be hard to know which CMS is the right choice for your brand.
You need to do your homework upfront because it's essential to understand what a CMS is and which type will best fit your business model.
There are several approaches to how a CMS will be your one-stop-shop for managing your digital content, website, records, and other vital documents and data management functions.  You must consider workflows, access, strategic alignment, marketing, and IT team responsibilities, and how these elements will seamlessly connect.
Deciding on the right software application or a sequence of related programs that create a quality digital experience for your visitors is critical to your brand's success.
CMS Checklist for Marketers
Each CMS platform has strengths and weaknesses relative to what your online presence requires.  Content management system evaluation criteria will be weighted differently from one company to the next.  
Your CMS requirements will be unique, and you need to understand what things are important for you to consider so that you make the most appropriate choice for your situation.
Here are several things to consider:
How strong are the Content Management System's SEO capabilities?
Search engine optimization (SEO) and marketing go hand in hand, so you'll want to make sure you're choosing a CMS with integrated SEO tools. The right CMS will be SEO-friendly, making it easy to manage your brand's SEO efforts, even for marketers with limited technical skills.
A CMS for a larger organization should be able to tailor user experiences with one-to-one marketing tools. This will present each visitor with a different user experience and target advertisements based on their browsing history and search tool inquiries.
A key SEO feature you'll want to look for when investigating content management systems is the ability to control both visible and hidden text. Controlling meta information such as title tags, meta descriptions, and meta keywords are imperative to your website's search engine rankings. 
For example, Zesty.io automates search engine optimization into your content creation process. By creating a SEO-friendly URL path and auto-populating your Meta Title and Description, you're ahead of the game with SEO. Additionally, your OpenGraph tags for social media channels like Facebook, LinkedIn, Twitter, and more are automated. Of course, you can customize your meta tags in the future - but it's one less thing to think about when creating content.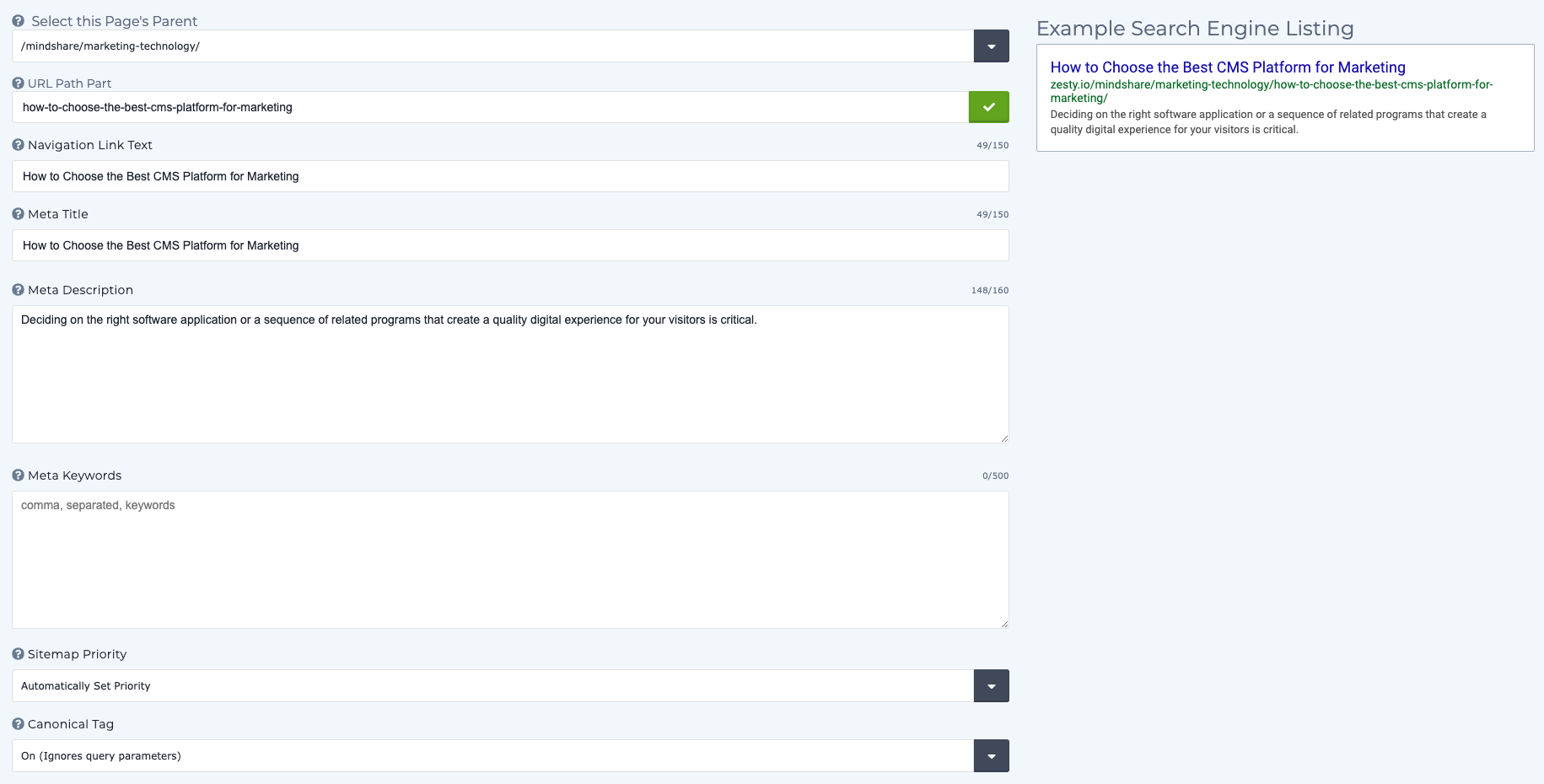 A screenshot of the SEO Automation included in Zesty.io's platform. 
You can also find some great analytics tools and integrate your Google Analytics account to view top performing pages right in the CMS and search keywords. 
Depending on your skillset when it comes to web design, you'll want to make sure you're working with a CMS that fits your skill level. Choosing a highly customizable but overly complicated CMS is frustrating and worthless if you don't know how to use it. 
We suggest marketers avoid overly technical content management systems altogether.  The burden of not mastering a complicated CMS means marketing can focus on content marketing instead.
Remember, content and SEO always go together. When you're searching for a CMS, be sure to ask demo specialists about where the SEO tools are in the CMS platforms and how they work. You must have a clear understanding of how search engines will reward you later with traffic to your site.
Will the CMS Social Media Integrations increase engagement?
Social media integration is similar to SEO.  Integrated social tools can drive engagement around your brand. 
A good CMS will have social media integration that makes it easy to add your social feeds and share buttons throughout your website content. 
Social media is one of the pillars for maintaining your brand, and getting your content to go viral on a social platform can be a game-changer.
How does it handle mobile responsiveness?
Mobile responsiveness is required when choosing a CMS. 
Everyone has a cell phone or a tablet for use on the go, so you must optimize your website for viewing in mobile formats on several screen sizes and resolutions. 
You'll want to go with a CMS that can transition your website quickly with little or no lag time between different screen sizes and resolutions.
Mobile responsiveness is all about giving the consumer the best experience possible without changing the way they view your site on their device. A good CMS will have tools specifically designed to optimize your mobile viewing experience, along with tips on how to create a more attractive mobile website. 
The best CMS options out there will allow you to preview how your page looks on mobile before going live.
Most websites, if left to their "desktop form" on mobile, will look cluttered and confusing when viewed through a phone or tablet. A good CMS will help you cut down on the clutter without losing key information or quality. 
When a brand does not have an efficient mobile strategy as an enterprise, it's a huge loss, especially for B2C enterprises. 
Does the CMS have a marketer-friendly user interface?
Several content management systems have an intuitive user interface for marketers such as WordPress, Squarespace, Drupal, and many others. 
Enterprise platforms require more security and flexibility than these CMS options. However, enterprise CMS platforms are much more technical and lean towards being web developer-friendly instead of marketing friendly. 
But to drive conversions and distribute content quickly, marketers need to navigate swiftly through CMS software, making the most of plugins and user-friendly backend tools.
Zesty.io has addressed this challenge with a completely customizable CMS so that marketers can easily control page hierarchy, templates, and more without filing tickets with their development team. 
The sitemap is a terrific marketing bonus, but before checking off anything else on your list, make sure you feel comfortable getting a landing page up and running, distributing content, adding calls to action (CTA). This is where a decoupled CMS is handy. 
Your development team can have the flexibility to innovate, and you can have the freedom to create campaigns independently.
Will your IT team verify the CMS as secure?
Security should be another top priority for any marketer looking for a CMS.  You need to involve your web development team early on in this process to ensure it is not a weakness moving forward.
Two critical aspects of security are permissions/user authentication and cloud infrastructure security. To ensure your data and your user's data are safe, you should research and consider creating an open-source versus a closed source platform. 
Content management systems are often the target of hackers, so you'll want to make sure that the platform you're going with has ample security.
We suggest staying away from a CMS like WordPress if security is a priority. Developers say WordPress is a jack of all trades and a master of none. 
Marketers and developers should be ready to compromise on the right CMS, but no matter which side you're on, be sure to thoroughly investigate any security shortcomings a CMS vendor has had before making a final choice.
Consider checking other user's reviews when researching security. 
What are other users saying about their experience with the platform? 

Are there any common security concerns within the reviews? 

Have any security issues been addressed and shored up?
Once you've got a handful of positively reviewed CMS platforms, go down the list and steer clear of overly technical platforms. Search for a CMS solution built for marketers, so your campaigns don't get bogged down with developer bottlenecks.
Does your business need to handle multiple sites?
If your business plans to expand or you're currently hitting roadblocks deploying web pages and sites, it's time to look for a CMS partner you can trust to provide successful digital experiences across all sites and all devices. 
Choosing the right CMS solution drives content engagement, and should provide solutions, not create problems.
If your business needs to manage multiple websites, you'll want to make sure that your CMS offers a central dashboard.  You must be able to manage content and marketing across all of your websites conveniently while saving a lot of time logging into multiple dashboards.
Often, if you have multiple sites, you might need a more robust, more secure multilingual strategy. 
Every CMS provides different language versions depending on their satellites.  Look for a system that includes compatibility, reasonable pricing, and options such as an appropriate e-commerce platform that you need for your multilingual site. Content management systems can efficiently provide multilingual content and a diverse set of visitor experiences. 
A CMS that has mastered localization and internationalization will naturally increase conversions. 
Open Source vs. Proprietary CMS
One of the important choices you need to make when deciding on a CMS is choosing an open-source or a proprietary platform.  There are pros and cons to each.
An open-source content management system means the source code is open to the public and is free to use by anyone.  There may be some restrictions on use, depending on the license type. 
Open-source developers publish the code and let others modify it.  In many cases, this creates a developer community where developers collaborate and provide tech support to users.  That open-source CMS community can build their own themes and create or modify existing plugins.  This makes it an extremely dynamic platform with constant changes and upgrades.
Also, if the original developer goes out of business for any reason, the community can continue the platform and on their own.
Examples of open-source CMS platforms include Drupal and WordPress.
A proprietary content management system is software that is legally owned by the entity that created it.  Most times, the owner will not release the source code to the public and restricts usage only to those who have purchased a special license key.
The drawback to a proprietary CMS platform is that once you are a customer, you are limited by what the developers do and update.  This is the trade-off for ensuring that the source code is not tampered with.
Examples of proprietary content management systems or digital experience platforms are SiteCore and Adobe Experience Manager.
CMS vs. Website Builder
A CMS and a website builder can both build high-quality websites.  The difference is in how they approach the tasks at hand.  
CMS platforms are effective for website content, such as when heavy blogging is involved.  Add-ons allow bloggers to customize the blogging experience.  Also, you can host the site you build on any server you choose, and it's easy to switch from one host to another if and when you're ready.
Popular CMS platforms include Drupal, Joomla, and WordPress.
By contrast, website builders focus on tools to build the website and are strong when it comes to front-end visual interfaces.
Website builders create websites on the builder's hosting platform.  They use proprietary software that only works on their pages.  That means code changes are limited.
They are easy to use and don't require any knowledge of coding or what goes on behind the scenes.  Examples of website builders include Wix, Weebly, and Shopify, among others.
If you don't need a website with a lot of content, then website builders may be a preferred option for you.
Top Reasons to Use a CMS
There are several reasons to use a CMS for your online marketing efforts.
It's user friendly.  You don't need to be a tech wizard to use a CMS.  You can deploy a CMS that matches your team's level of technical expertise so that you can begin seeing results almost immediately.  Some content management systems, like WordPress, hinge on ease of use as one of their key features.  Ready-to-use templates flatten a short learning curve so you can see results in a flash.
Ease of collaboration.  Several members of your tech and marketing teams can have access to the dashboard, allowing for easy collaboration on multiple projects.  It's easy to edit, update, and add content from all types of devices while providing centralized storage and access point for your online content.
Customization and expandability.  With SEO tools and plugins, you can customize and expand your capabilities in almost limitless ways.  You can dial in the functionality of your CMS so that it meets your SEO and online traffic goals with the least amount of effort.
Optimized SEO results.  CMS systems are designed to be SEO results-driven.  You invest less time and effort in SEO because it's been automated, freeing you up to focus on the quality of content instead.
Ongoing software updates.  CMS vendors are continually updating existing features and adding new options to allow for continued growth and access to cutting-edge technology, including essential security functions.
Works for all sizes of online brands.  Whether you've been in business for 10 minutes or 10 years, a CMS can augment your existing efforts and give you the added tools you need for healthy future growth.  Small businesses can build a framework that will turn them into bigger businesses directly, whether it's an e-commerce site, an online content provider, or any other type of enterprise venture.
Affordable and cost-effective.  You can save tons of money by doing online updates in-house instead of retaining a costly web developer or designer.  Also, because you can make changes in-house, you can be much more nimble and make changes and updates on the fly.  In an environment where speed often dictates success, a short turn on your project is a critical component to consider. 
Enhanced cross-selling – Some CMS platforms learn user behaviors and preferences so that you can more readily engage in effective cross-selling and up-selling programs. 
What is the Best CMS Platform?
Without ducking the question too much, the correct answer to this one is that the best CMS platform is the one that best meets your brand's individual needs.
Different platforms each have strengths and weaknesses you'll need to weigh as part of your due diligence. If you need a list to start with, check out this List of Headless CMS for 2021. 
Choosing the right CMS is critical to your brand, so make sure you don't take shortcuts in your research.  Ask questions, view demos, talk to user communities, work with your marketing and IT teams, and you will make the best choice as a result.
Mistakes to Avoid When Choosing a CMS Platform
Building on the knowledge and experiences of others who have used CMS platforms before you, here's some solid advice to avoid mistakes when choosing a platform.
Make the "ease of use" part of the CMS evaluation.  All the CMS bells and whistles in the world won't mean a thing if your team doesn't know how to use them.  You need to consider your team's technical expertise, how your editors and marketers will use the system and match that to how easy it will be to use the system you ultimately choose. Ask the vendors you're evaluating if they include training, or if they have documentation or a YouTube channel to reference when you need help.
Choose a platform that scales.  As your business grows, you will want a CMS that can grow along with it.  Many platforms can handle this task, but be sure to ask this as part of your research, so you have a thorough understanding of what to expect in the future.
Don't assume a bigger and more sophisticated CMS platform is better.  Many companies assume this is the case and that buying in is a safe option for future growth.  The flip side is that this can waste valuable dollars upfront and may frustrate your employees by making a CMS backend user experience overly complicated.  Weigh your needs carefully and respond with the best choice based on those needs.
Don't put IT requirements over business strategy and execution requirements.  IT exists to serve the overall goals of the business and customer stakeholders...not the other way around.  IT should have a role in determining the best CMS platform, but this needs to be done in the context of the strategies that need to be executed.
Focus on CMS benefits, not features.  You must be able to translate how a CMS will improve your brand and your bottom line.  Don't confuse a cool way of doing things with practical and actionable ways of doing things.  Get creative with how a CMS can benefit your business and how you can implement your ideas. Zero in on the long-term financial benefits of a CMS and then decide how to turn projections into reality.
Overwhelmed? We can help.
Our experts are standing by, ready to help you in your evaluation.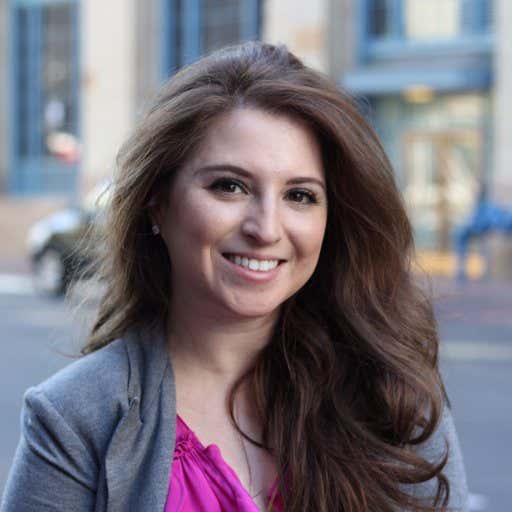 By Chloe Spilotro
Hooked onto the platform since first using it through the Zesty.io Incubator Program at the University of San Diego. Passionate about all things marketing, IoT, and helping businesses leverage technology to grow and become major players in their industries.
---