Digital experience platforms represent the next stage of digital content management. The digital landscape has evolved plenty over the years, going from the web CMS to the headless CMS. In the early years of the internet, most enterprises only needed a platform to manage content for their website. 
Eventually, more channels came into the picture, starting with mobile devices, then including tablets, IoT devices, and more. Suddenly a new approach was necessary to facilitate the next stage of evolution, and headless CMSs entered the fray.  
Now, we've reached the next stage in content management's evolution. One where the customer experiences demanded — omnichannel experiences tailored for personalization — and the flexibility enterprises need to deliver them require a different approach. 
Enter the digital experience platform (DXP). 
What Is a Digital Experience Platform?
A digital experience platform is an integrated software stack that enterprises use to create modern digital experiences. The Gartner definition of a DXP is arguably the most prevalent within the content management space, but it can be difficult to understand what it truly means. 
"A digital experience platform (DXP) is an integrated set of core technologies that support the composition, management, delivery, and optimization of contextualized digital experiences." 
Those integrated sets of core technologies aren't just limited to content management. Instead, they also include other capabilities such as analytics, the ability to personalize content for multiple personas, the ability to collaborate effortlessly within and across departments and deliver content to a variety of channels. 
Multichannel delivery is a critical component of any DXP, and it has become necessary due to the nature of modern digital experiences. Content is being viewed in several places, including desktops, smartphones, AR displays, VR headsets, and several other IoT-connected devices. For companies to meet the demands of the modern digital experience, they need to deliver content to all of these channels and more while keeping them all connected. 
DXPs also enable integrations with other key elements of a modern tech stack outside of content-related technologies, including CRMs, DAMs, eCommerce platforms, and more. All of these things combine to allow a DXP to do everything it needs to do. 
What Does a Digital Experience Platform Do?
Well, a DXP creates digital experiences. But that only scratches the surface of what can be achieved with a DXP and the benefits of having one. A digital experience platform: 
Centralizes your tech stack
Many organizations suffer from fragmented tech stacks with various pieces of technology that don't always fit together. A DXP helps centralize things, giving you one interface to view how everything is connected and decide which parts will work the best. This enables you to adjust your existing processes and remove bottlenecks, increasing productivity and efficiency.
Provides flexibility
A DXP enables your organization to be more flexible than with a monolithic or suite CMS. Instead of working with the technologies chosen for you, a DXP allows organizations to select the technologies that work best for your unique needs, allowing you to remain flexible and adaptive. 
Facilitates omnichannel experiences
Publishing content to multiple channels is standard practice for a DXP. However, it also facilitates omnichannel experiences. Omnichannel isn't just about publishing content to multiple channels; it's about seamlessly connecting all of these channels so that they feel as if they're receiving the same high-quality experience no matter where a customer goes. 
Shifts focus towards the customer
DXPs put the customer front and center. Instead of tracking customer journeys across several devices, a DXP can show you the entire picture, all in one place. This means you can pinpoint where the customer is in their journey and ensure that you're providing them with the personalized experiences that they want. 
Future-proofs your business
Change is the only constant in today's digital world. Monolithic CMS platforms can leave you scrambling to find an alternative because they cannot adjust to changes that need to be made as new technologies emerge. However, a digital experience platform is built using a headless architecture that leverages APIs to connect to various frontends and integrate with other technologies.
Headless CMS vs. DXP
We mentioned that a DXP uses a headless architecture that decouples the backend database from the frontend presentation layer. The backend can then be connected to different frontend interfaces by using APIs. This underlying architecture is the same thing that powers a headless CMS. So how does a headless CMS compare to a DXP?
A headless CMS provides the foundation for a DXP. API-first integrations enable a DXP to connect to the accompanying technologies that help enhance the digital experience. These APIs can also be used to connect to different frontend channels, providing added flexibility for developers and enabling them to use the languages and frameworks they prefer.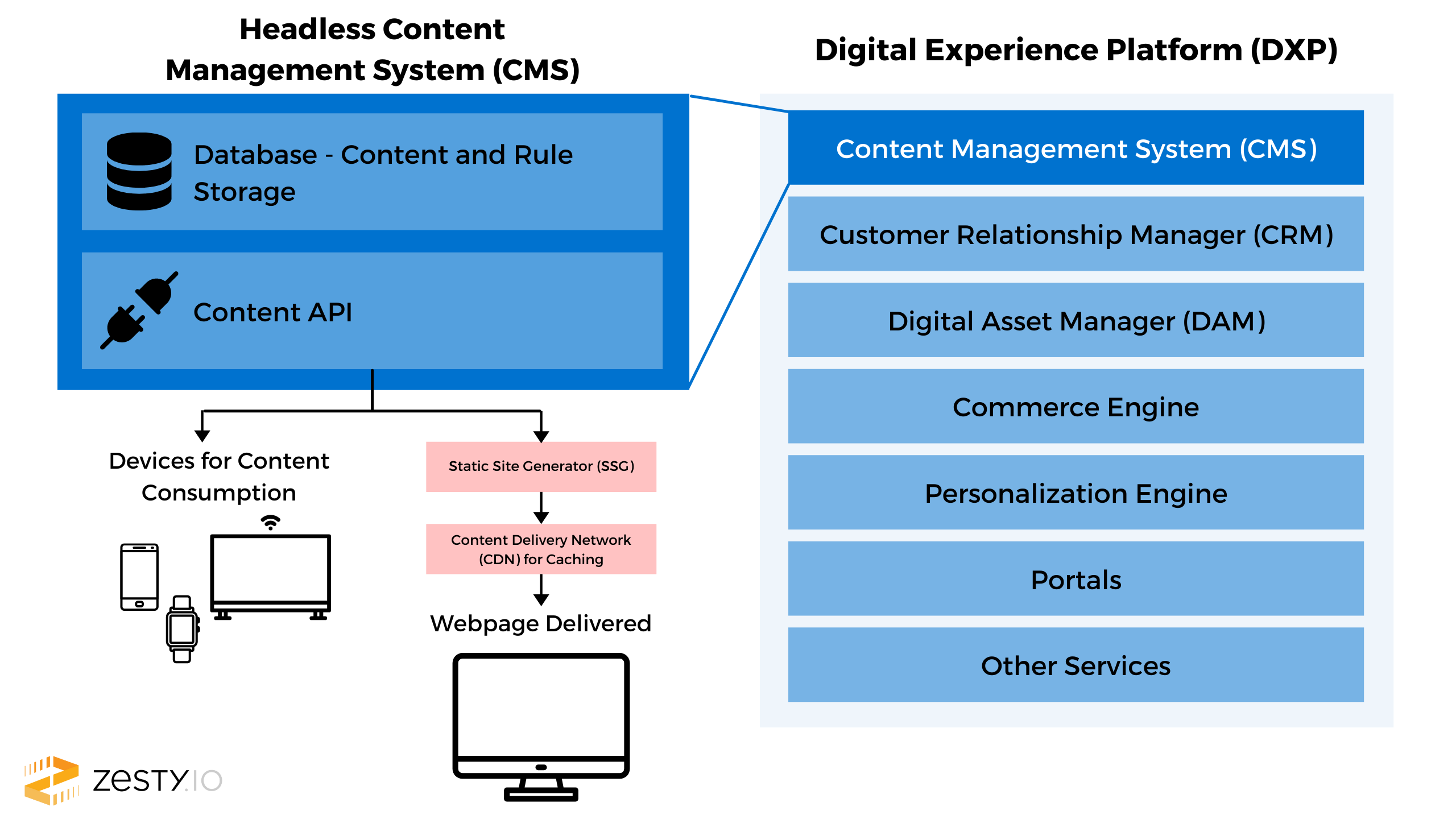 However, one thing to note is that not every headless CMS is created equally, meaning that not every headless CMS can be used to build a DXP. Some headless CMS platforms are, in fact, monolithic suites. They have all of the tools necessary for integrations but take away choice from the business. 
Instead, a DXP focuses on composability. It provides the tools that allow you to integrate but doesn't restrict how you can use them. Modern enterprises are ready to embrace this composability as the shift has been made from all-in-one suites towards best-of-breed solutions that enable you to choose the tools that make the most sense for your business. So, if there is a specific analytics tool that you prefer to use, you can select that one. If the CRM you once used doesn't quite fit the bill anymore, you can swap it out and go with one that's a better fit. 
How Zesty.io Does DXP
A digital experience platform can be the answer to your modern business needs. However, you need to choose the most suitable headless CMS to begin composing your DXP. Zesty.io is a hybrid headless CMS that deploys, adapts, and scales itself. 
Developers can leverage Zesty.io's API-first approach, which provides APIs and SDKs to support whatever you need your web content to do. Marketing teams don't get left behind either, with easy-to-use content management capabilities that allow speedy campaign implementation and smooth workflows that will enable multiple content editors and strategists to get content delivery done quickly. 
WebEngine powers Zesty.io, our tool that builds, renders and delivers web pages at 99.99% uptime along with all of the benefits of a headless CMS. This unique hybrid approach handles the complete content delivery process from database to any channel your team requires ⁠— perfect for a digital experience platform. 
If you're wondering how effective Zesty.io is at doing all of these things, look at the fintech startup that needed to connect their web and mobile applications as well as multiple websites, and manage them all using one platform. Zesty.io's headless architecture provided everything they needed to facilitate omnichannel content delivery, which resulted in them growing from 3M to over 5M users in the space of a year. 
Learn more about how they achieved omnichannel success by reading our case study.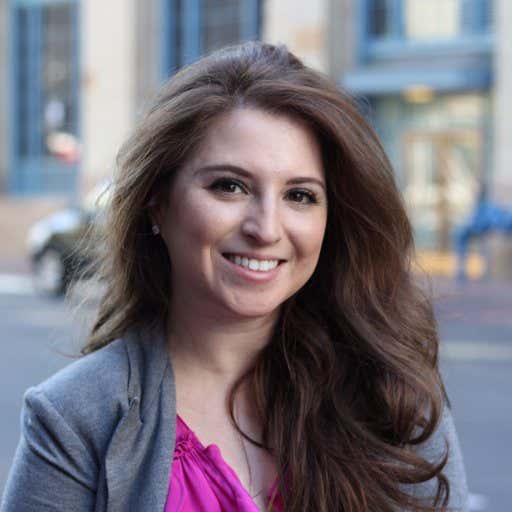 By Chloe Spilotro
Hooked onto the platform since first using it through the Zesty.io Incubator Program at the University of San Diego. Passionate about all things marketing, IoT, and helping businesses leverage technology to grow and become major players in their industries.
---