In recent years, there's been a growing inclination for enterprises to develop customer-centric initiatives that'll help drive business growth. And that's what makes digital experience platforms (DXPs) so integral to modern businesses. DXPs combine several technologies and services to help you deliver a seamless experience across different touchpoints.
Amid marketing budget cuts, assembling a strong DXP feature list is even more vital in addressing current and future business goals, gathering and analyzing consumer buying patterns, and creating unified customer profiles.
We've compiled a DXP feature list of technologies to consider as part of your best-of-breed DXP architecture.
List of Capabilities Commonly Seen in Enterprise Digital Experience Platforms
This list is compiled from a Gartner list of core DXP capabilities – either natively as part of a suite or as integrations. Let's explore each one in detail with product examples. 
Content Management System
A content management system (CMS) is often the core of a DXP. It helps you create, manage, and serve content across different platforms and devices. Instead of a traditional CMS with the content and UI baked into one single ubiquitous platform, the headless CMS enables seamless omnichannel marketing and content delivery, integrations, and interoperability via APIs.
Building a reliable, high-performing DXP requires a flexible, scalable, and future-proof architecture. That's why you need to adopt a composable DXP, using a headless CMS as the foundation for integrating all other marketer-friendly functionalities. 
Some of the features to look for in a headless CMS include WYSIWYG editing, drag and drop functionality, multi-language, multi-site, automated workflow and maintenance, audit trail, and advanced SEO. 
Potential Products
Zesty.io: Zesty.io is a leading headless CMS that enterprises can leverage to deliver customer-centric experiences across all digital channels and drive innovation and growth.
ButterCMS: ButterCMS is an API-first CMS platform to manage and serve content across all channels.
Magnolia CMS: Magnolia is a headless CMS and DXP for marketers and developers to collaborate seamlessly to deliver consistent and compelling experiences.
dotCMS: dotCMS is an open-source platform for content management and customer experience management.
Personalization
Personalization is another crucial function in a DXP. According to Mckinsey, enterprises that offer personalized experiences generate 40% more revenue than those that do not. For this reason, your DXPs should include a personalization engine to know your customers' preferences and habits.
Since DXPs act as the central hub for all customer data, enterprises can identify trends and obtain insights that'll help them tailor experiences to customer needs. They can analyze first-party and behavioral data to provide personalized and contextual experiences to each user. 
This feature links inextricably with analytics and optimization and is enhanced by AI & ML capabilities.
Potential Products
Ninetailed: Ninetailed is a platform that enables enterprises to personalize customer and shopping experiences. 
Frosmo: Frosmo is an AI-powered personalization engine that enables automated customer experiences.
Qubit: Qubit is a platform for AI-driven personalization, allowing brands to offer customers product recommendations, insights, and more. 
SmarterHQ: SmarterHQ is a platform that helps brands deliver highly personalized experiences to customers. 
Analytics and Optimization
Analytics is a crucial component in any DXP. How else can you glean insights from all the data you've gathered? Businesses aggregate data from many different channels to create unified customer profiles. And without having an analytics platform in place, it's difficult to improve customer journeys across all these digital channels.
Analytics and optimization platforms help you gather, analyze, and take advantage of customer-specific data to enhance customer experiences and journeys. This includes site traffic, open rates, click-through rates, and more. Moreover, having this actionable data enables you to experiment with new designs and gain customer feedback through optimization techniques such as A/B or multivariate testing.
Potential Products
Google Analytics: This is a platform that can help you track and glean insights into the performance of your content. 
Kissmetrics: Kissmetrics provides behavioral analytics and customer segmentation to help businesses grow their customer base.
Mixpanel: Mixpanel helps enterprises glean track and glean insights from customer behaviors across their platforms.
Baremetrics: Baremetrics is an analytics platform that helps to identify, track, and provide insights into customer data.
Customer Data Platform
A customer data platform (CDP) is a platform that gathers and combines data from multiple channels and sources to create a complete and coherent picture of each customer. With this unified data, enterprises can segment data in a variety of ways to personalize marketing campaigns.
The CDP consolidates first-party data from all the points that a customer may interact with the business and makes them available and usable to all other systems or channels. After segmentation, you can create targeted advertising for users who visit specific pages of your site. 
Potential Products
Segment: Segment is a CDP that enables enterprises to collect customer data and route it to various integrated applications.
Totango: Totango's DNA-CX allows enterprises to integrate all customer data streams into an integrated CDP.
Search and Navigation
Another essential proponent in a DXP is search functionality. Having an integrated search functionality in a DXP allows enterprises to provide their customers with easy access to products and information across all channels. These search technologies let you develop advanced and personalized search capabilities based on your content model structure.
Furthermore, these tools can leverage real-time AI to customize search features for an enterprise site, content structure, and metadata.
Potential Products
Algolia: Algolia is an AI-powered platform that provides search and discovery capabilities through integration with various applications.
Elasticsearch: Elasticsearch is an analytics and search engine platform that allows enterprises to build modern search functionality into their applications.
Artificial intelligence (AI) & Machine Language (ML)
In the face of a customer's increasing demand for an intuitive and personalized experience, now is the perfect time to consider integrating AI and ML platforms into your DXP. Having AI and ML tools integrated into your DXP significantly enhances customer experiences. 
These solutions help to improve other features such as personalization, analytics and optimization, customer service, and marketing campaigns. They achieve this by helping businesses build comprehensive customer profiles, automate workflows, and create personalized content across multiple channels.
Potential Products
Algorithmia: This is an MLOps platform for building machine learning models quickly.
Chorus: Chorus analyzes sales-customer meetings and phone call interactions to gather data and insights that can help improve the overall customer experience.
MarketMuse: MarketingMuse enhances content creation and business creation by leveraging artificial intelligence for content planning and optimization. 
eCommerce
Commerce underpins and drives every business. With an eCommerce solution as part of your DXP, enterprises can effortlessly provide features to oversee transactions and orders across all customer journeys. The eCommerce engine should integrate seamlessly with other solutions in the DXP and support headless commerce, enabling you to offer dynamic shopping across multiple channels.
Potential Products
BigCommerce: This is an enterprise-grade platform that simplifies eCommerce through numerous features, speed, and ease of use for all sizes of businesses.
Fabric: Fabric is an eCommerce platform that offers headless functionality for modern customer experiences.
Commercetools: This is a platform for digital commerce which embraces MACH principles for both B2B and B2C companies.
Shopify Plus: Shopify plus is an eCommerce platform designed to meet the needs of businesses with high growth rates.
Snipcart: Snipcart is a shopping cart platform that enables businesses to add a cart to any application and connect with other eCommerce solutions.
Digital Asset Management (DAM)
Digital asset management is a solution that enables brands to aggregate, manage, create, and deliver digital assets such as images, videos, documents, music, and other media. For content-rich businesses, having a place to store large volumes of media integrated with a DXP will make it easier to organize, search, and retrieve content. 
The truth is that it can be quite challenging managing different file assets across several channels and devices. Having a cloud-based DAM platform saves you from waste and clutter, enabling you to centrally store company assets, set user access, automate workflows, and leverage analytics to show their performance.
Potential Products 
Bynder: A cloud-based digital asset management platform that enables centralized and collaborative asset management.
Zesty.io's DAM: This is a digital asset manager for managing publicly served files such as videos, images, PDFs, JavaScript, etc. 
Canto: This platform helps brands to manage the flow of digital assets within an organization's library by providing a central place for all assets. 
Widen: Widen combines the functionalities of a DAM and PIM to help you effectively manage all product and media content across your customer journey.
Marketing Automation
Marketing automation platforms simplify and automate repetitive tasks and allow organizations to devote their time to more strategic tasks. Rather than worry about things like bulk emails and lead generation, marketing automation lets you focus on creating content that resonates with your target audience.
These platforms help you save time and resources, enabling you to focus on the growth of your business, while improving customer experience and driving revenue. 
Potential Products
ActiveCampaign: ActiveCampaign offers email marketing and marketing automation services for businesses.
Sendinblue: An integrated platform for building relationships by sending targeted communications to contacts. 
Mailchimp: Mailchimp is a unified marketing platform that allows users to send marketing emails, create automated messages, and targeted campaigns.
ConvertKit: An automated marketing tool that facilitates lead generation, automated newsletter distribution, and custom forms. 
CRM
Customer relationship management (CRM) is another important functionality in a DXP. It helps you manage customer data so that enterprises can build long-term relationships with customers. Having access to this data enables businesses to use the CRM to personalize content for their customers, which leads to improved customer service and increased sales.
For all customer journeys and life cycles, a CRM helps with sales management, client management, eCommerce, and customer service. You can have a comprehensive view of all customer interactions, all purchases, recent transactions, and total money spent.
Potential Products 
HubSpot: HubSpot is a CRM platform with all-in-one sales functionalities such as sales analytics, lead generation, sales engagement, and CPQ. 
Zoho: A cloud-based on-demand CRM platform for businesses of all sizes to efficiently manage customer relationships.
Apptivo: This is a cloud-based platform with several applications to help businesses manage customer accounts.
Salesforce: Salesforce Sales Cloud is an effective CRM system that helps businesses cultivate strong customer relationships.
The Problem With the "All-In-One" DXP
The future is composable and the heydays of the all-in-one DXPs are waning. Businesses today want the flexibility and freedom to select best-of-breed solutions that are most suitable to their business needs, rather than rely on a single vendor with features that range substantially from powerful to half-baked.  
Most enterprises fail to gain the full value, benefits, and ROI from monolithic all-in-one DXPs. This is mainly due to the complexity of these disparate solutions that don't work seamlessly well together, making the entire process quite time-consuming, expensive, and difficult to scale. 
The Trending Alternative: Building Lightweight Composable DXPs With a Headless CMS at the Core
Composable DXPs offer a lightweight, API-first architecture with a collection of best-of-breed solutions. They embrace the principles of MACH architecture and the notion of modularity. All components are decoupled and interdependent. Considering the importance of content in all digital experiences, a headless CMS is an ideal foundation for your composable DXP.
Building your DXP with a headless CMS provides you with several benefits, which includes:
Greater Agility: Adopting a headless CMS gives you the flexibility and agility to integrate best-of-breed solutions for every DXP feature or functionality.

Scalability: No longer will you be in the thrall of a single vendor. Now, you can control your entire marketing stack, choosing which services to integrate or leave out.

Security and Reliability: Because it's based on microservices, one failure does not mean the entire ecosystem comes crashing down, as it is with monolithic DXPs. 

Superior Omnichannel Experience: Having a headless architecture allows your customers to seamlessly interact with your brand across multiple channels e.g websites, apps, social media, chatbots, SMS, email, etc.

Ease of Integration: Building with an API-first CMS enables you to seamlessly integrate with other services, leading to unmatched flexibility that monoliths can't offer.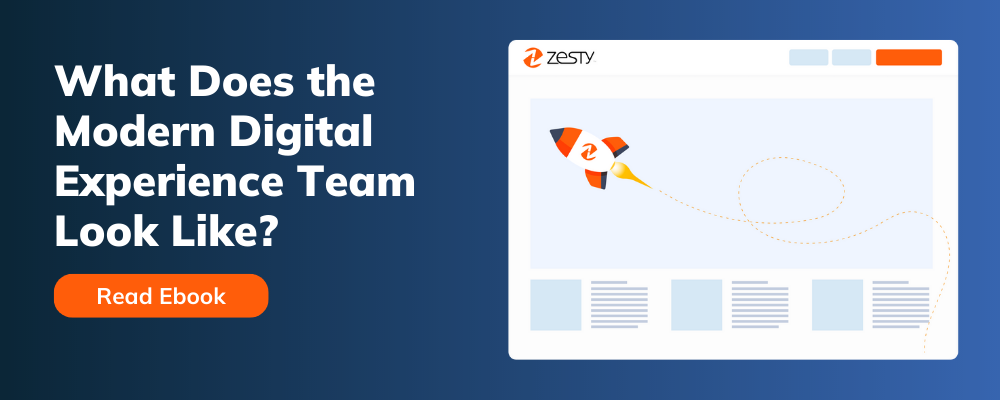 Build Your Enterprise-Grade DXP With a Headless CMS
Modern enterprises want to be at the forefront of innovation, providing better customer experiences and driving business growth. There's no better way to achieve this than to build your DXP with a headless CMS. It enables you to bring together and integrate all the functionalities you need using APIs.
Zesty.io is a headless CMS platform that can serve as the core of your DXP. It comes with a built-in integrated WebEngine that lets you rapidly build, render, and deploy web pages. This makes it an ideal solution for enterprises and marketers seeking to create engaging, personalized experiences for their customers.
Ready to kickstart your DXP journey? Get started by getting in touch with the Zesty.io team today.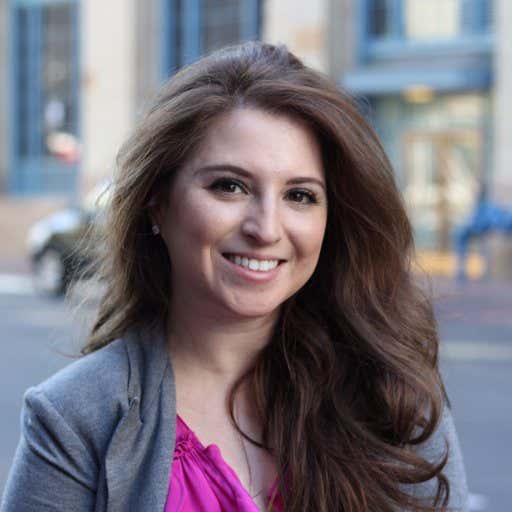 By Chloe Spilotro
Hooked onto the platform since first using it through the Zesty.io Incubator Program at the University of San Diego. Passionate about all things marketing, IoT, and helping businesses leverage technology to grow and become major players in their industries.
---