Search Engine Optimization (SEO)
Search Engine Optimization Features in Zesty.io
#
Zesty.io provides a suite of Search Engine Optimization (SEO) features that help optimize your web content for search engines and social media platforms. This article discusses key SEO features in Zesty.io, including SEO meta tags, head tags per page or globally, content insights, canonical tags, social media open graph tags, alt text support, page speed optimization, 301 and 302 redirects, automatic sitemap.xml generation, automatic feed XML per content model, and Google Tag Manager integration.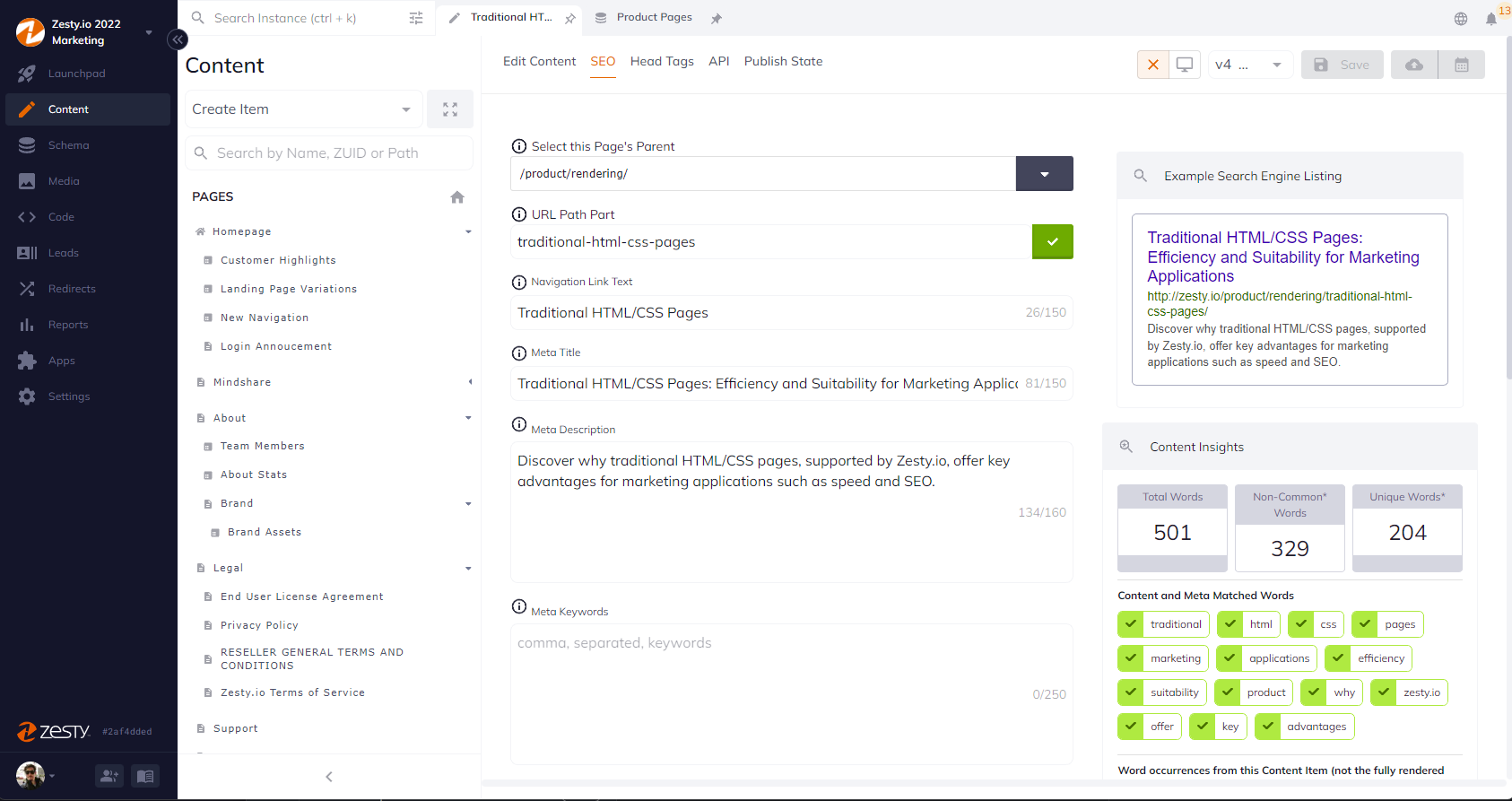 The Search Engine Optimization features for a single content item in ZEsty.io. SERP Preview, Keyword Analysis, easy meta tag editing.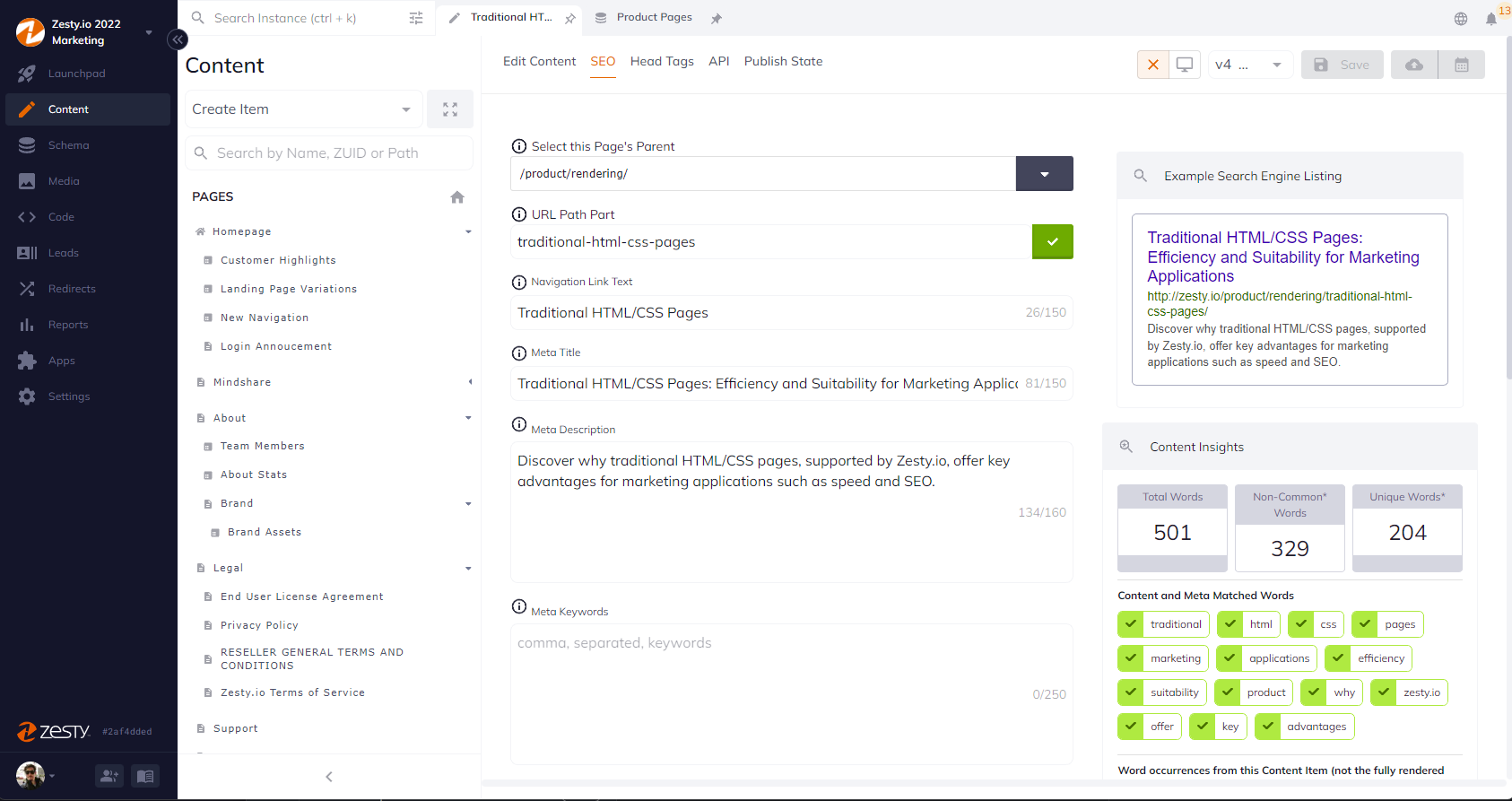 Head Tags per Page or Globally
#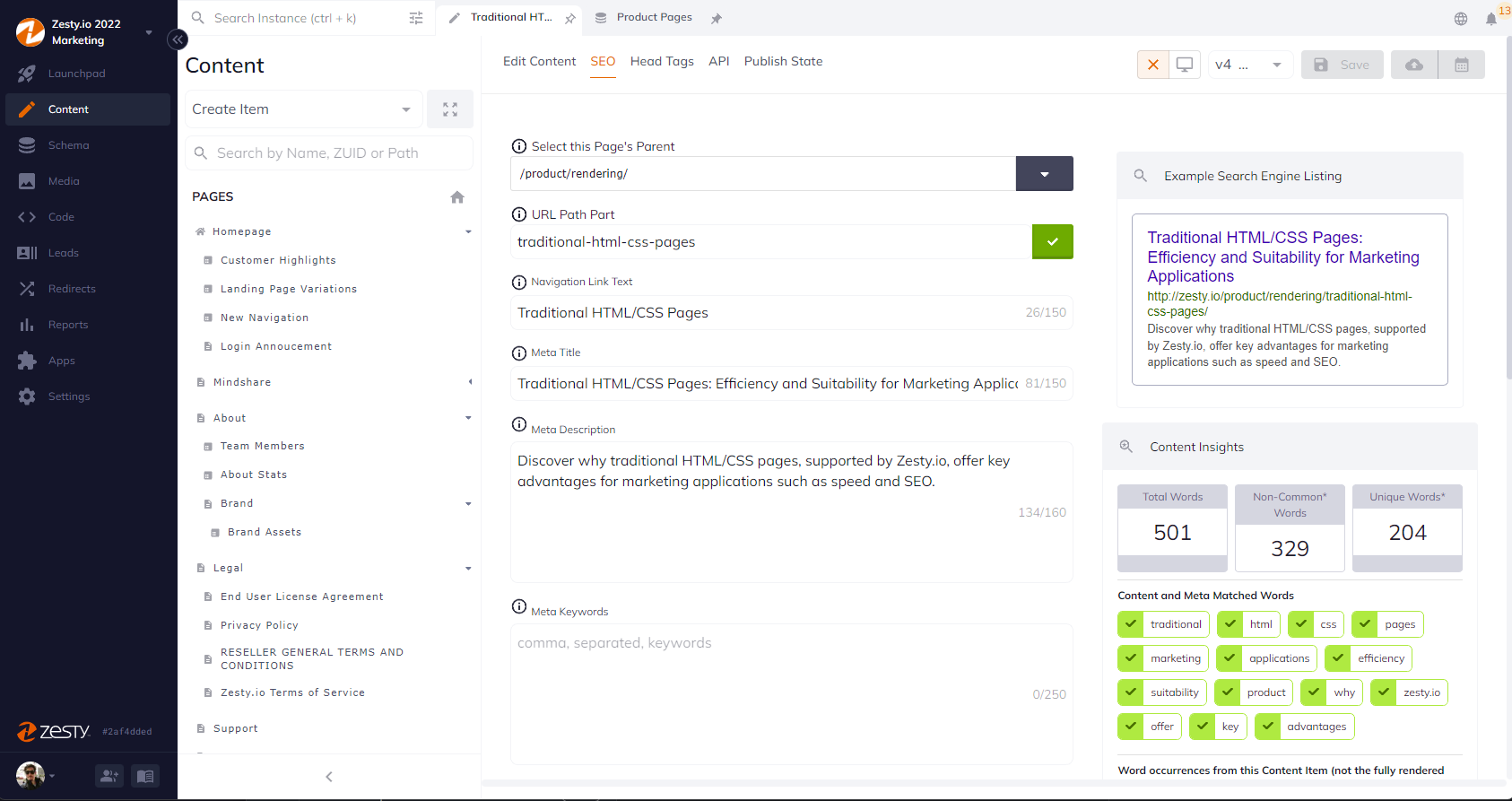 Content Insights in Zesty.io provides a comprehensive review of your content, highlighting potential SEO issues and offering recommendations. This tool helps you understand the effectiveness of your content and how it can be optimized to improve your search engine ranking.
Zesty.io supports the addition of canonical tags to your web pages. These tags inform search engines about the preferred version of a web page, helping to prevent issues related to duplicate content. You can add a canonical URL to each page to guide search engines effectively.
Social Media Open Graph Tags
#
Open Graph tags enhance the way your content appears on social media platforms. Zesty.io allows you to easily add these tags, enabling you to control the title, description, and image that are displayed when your content is shared on social media platforms such as Facebook and Twitter.
Alt text improves accessibility and boosts SEO by providing a textual description of images on your website. Zesty.io offers alt text support, enabling you to add descriptions to your images that can be read by search engines and screen readers.
Zesty.io is designed with speed in mind. Fast-loading pages provide a better user experience and are favored by search engines. Zesty.io minimizes HTTP requests, optimizes images, and employs other techniques to ensure your website loads quickly.
Zesty.io supports both 301 (permanent) and 302 (temporary) redirects, allowing you to effectively manage changes to your website's structure and content without losing traffic. Redirects ensure users and search engines are directed to the correct page if a URL has changed or been removed.
Zesty.io automatically generates a sitemap.xml for your website, providing search engines with a guide to the structure of your site and the content available for indexing. This feature ensures your website is easily navigable by search engine bots, improving your SEO.
Automatic Feed XML per Content Model
#
Zesty.io creates an automatic feed XML for each of your content models. This allows you to syndicate your content across different platforms and services, improving visibility and reach. These XML feeds are updated in real time as you add or update content.
Google Tag Manager Integration
#
Zesty.io integrates seamlessly with Google Tag Manager, enabling you to add and update website tags without needing to modify the code. This simplifies the process of adding tracking tags for Google Analytics, AdWords, and other third-party analytics services.
Zesty.io provides a rich suite of SEO tools that enable businesses to effectively optimize their website's visibility on search engines and social media platforms. With Zesty.io's intuitive interface and powerful features, achieving a well-optimized, high-performing website becomes a more manageable task. It empowers businesses to boost their digital presence, reach a wider audience, and improve their overall online performance. Whether you are an SEO novice or an experienced digital marketer, Zesty.io provides the tools needed to successfully execute your SEO strategy.
Connect with Content Experts
Book a free 15-minute consultation with a content expert. Discuss your application, pain points and requirements. Understand how Zesty's lower total cost of ownership, features, functionality can elevate your business by creating extraordinary digital experiences.
Trusted By
G2 MOMENTUM LEADER
---