The world is gearing up for an economic downturn. To stay afloat, many companies will explore layoffs and price hikes—but there is another way to cut costs intelligently.
So far this year, companies such as Netflix, Shopify, Glossier, and Lyft have undergone layoffs in their workforce in preparation for the expected slump.
But what's the alternative?
Well, when you consider that 39% of companies have between 11 to 20 active pieces of marketing technology (or MarTech) tools, the solution becomes clearer. Do companies need such a vast array of software, especially when they mostly work in a disjointed way?
Here's how to re-examine your MarTech strategy to cut costs and improve efficiency along the way.

4 Tips for Staying Afloat During an Economic Downturn
1. Avoid the Temptation to Cut Your Marketing Budget
Companies have become increasingly dependent on MarTech solutions. However, when faced with an economic downturn, the knee-jerk reaction may be to cut down your marketing budget. But this may not be a wise move.
Several studies have shown that companies that maintain or even increase their marketing spending in a recession have bounced back the strongest.
One of the major reasons for this is the presence of lesser competition during recessions. Companies can also project a picture of brand stability, which breeds trust among consumers. Besides, the cost of advertising during a challenging period typically drops.
2. Streamline Your Tech Stack
While it's important not to cut down your marketing budget, companies still need to rethink how they operate and invest. One of those considerations should be streamlining your marketing tech stack.
Using a monolithic tech stack like WordPress or Drupal can leave you inflexible in dealing with the many changes that can arise in a recession. Monolithic tech stacks are single-vendor solutions that incorporate and package all services in one ubiquitous and complex platform.
With the growing importance of omnichannel marketing, monolithic tech stacks are not built for seamless content delivery to all channels. Monolithic tech stacks are not API-first, meaning that you'll have issues integrating them with best-of-breed technologies. They severely restrict you from adopting new modern technologies or approaches, making it difficult to scale.
Important to note: some particular services will become more important while others may no longer be needed. With monolithic tech stacks, you'll have to continue paying for all the services whether you need them or not.
Instead, you should consider adopting a composable tech stack. This approach allows you to remain agile and nimble in adapting your tech stack to any situation or market changes, even in a recession. You can easily select only the services you need and connect them together using APIs to build your digital experience platform.
Read more: Sitecore DXPs: Proof Monoliths are Dead.
3. Give Marketers More Control Over MarTech Selections
Giving marketers the right MarTech solutions will make their work easier.
Another key benefit of adopting a composable tech stack is the flexibility, control, and autonomy it grants your marketers. With the right technologies in place, marketers can do what they do best—market.
The modular and API-first nature of composable solutions means they can easily integrate with other best-of-breed technologies.
They can select their preferred solutions and connect them together using APIs. They can integrate a headless CMS, marketing automation tool, analytics, personalization engine, CDP, and more. And they can just as easily remove any of the solutions when they no longer need them.
Key to this is that these platforms integrate well. While it may seem antithetical to get a solution that requires MORE technologies, rather than select a monolithic solution that encompasses all of them, this framework actually allows companies to slim down where they can while still maintaining the best technologies for their business.
API-first platforms provide better integrations, smoother workflows, and ultimately smarter budget use.
4. Select Low-Maintenance Software
Composable solutions are simpler to use and require less hands-on maintenance. You get automated updates and maintenance which gives your developers the freedom to focus on your core business products.
Take Zesty.io, for instance. Unlike monolithic CMS solutions like Sitecore and Optimizely which require a large team, Zesty.io helps you decrease developer headcount needed for the website so they can be repurposed for other business needs. With a composable tech stack, you can select solutions that provide you with automated operations and maintenance.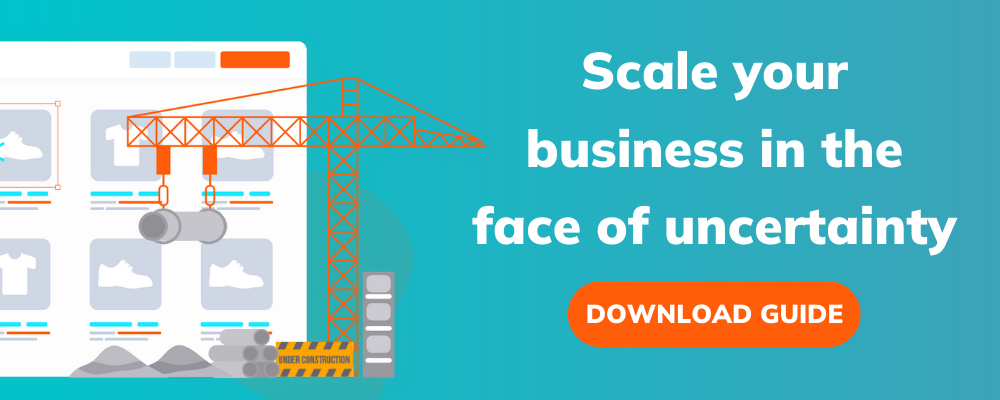 How Zesty's clients do more with less
Even though it's not advisable to cut down your marketing budget, marketing in an economic downturn requires new strategies. Start by identifying obsolete and unnecessary technologies in your marketing tech stack and then replace them with a composable solution.
If you're still relying on a monolithic tech stack, you need to start considering switching to a composable tech stack. Sure, this isn't an easy decision to make, but you can start with one composable API-first solution like Zesty.io.
Zesty.io is a hybrid headless CMS that can also serve as the central hub of your composable tech stack. It provides you with automated upgrades and maintenance, multi-lang and localization features, seamless API integrations, unlimited scalability, and omnichannel support.
When a company in the home services industry needed to migrate from their limited and obsolete Oracle's Web suite, they chose Zesty.io as the enterprise-grade solution that will allow them to consolidate and manage parent sites, partner sites, and other subsidiaries under one umbrella.
When Sony needed an enterprise-grade CMS solution for building their website and community, they chose Zesty.io. Using Zesty.io meant they have to worry less about availability, patches, plugins, and maintenance. Instead, the team can focus on what they do best or other revenue-generating activities. Since then, they've recorded 2.25X faster time to market, and ​​a 164% QoQ growth average.
Want to know how Zesty.io can help you cut costs and enhance your marketing efforts? Check out this case study.
---
Subscribe to the zestiest newsletter in the industry
Get the latest from the Zesty team, from whitepapers to product updates.
---